chicken, couscous and bacon meatloaves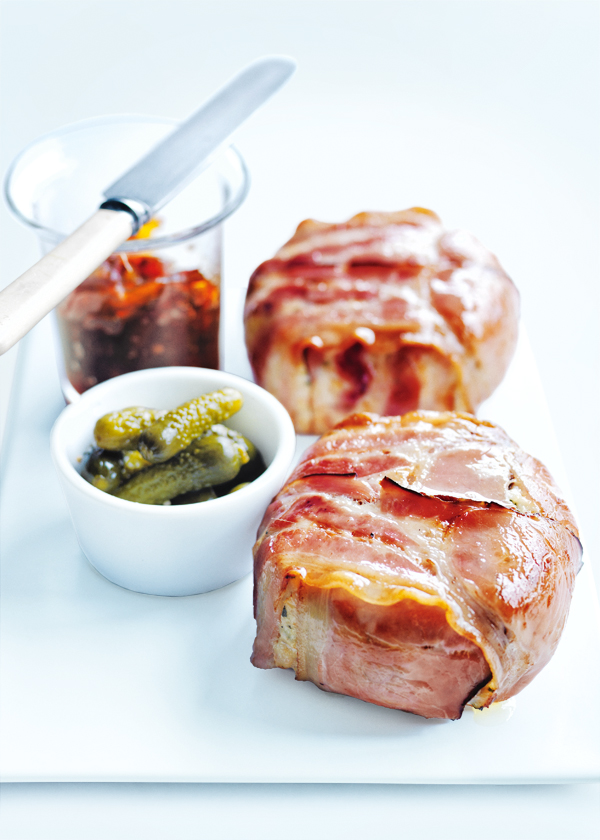 1 tablespoon olive oil
1 large brown onion, finely chopped
3 cloves garlic, crushed
18 bacon rashers, rind removed
1 cup cooked instant couscous
⅓ cup oregano leaves, chopped
2 tablespoons finely grated lemon rind
1 tablespoon Dijon mustard
2 eggs
800g chicken mince
2 rashers bacon, extra, chopped
sea salt and cracked black pepper
Preheat oven to 180°C (350°F). Heat the oil in a non-stick frying pan over medium heat. Add the onion and garlic and cook for 5–7 minutes or until softened. Cool completely. Line 6 x 10cm-round springform tins with the bacon, slightly overlapping.

Place on a baking tray and set aside. Place the couscous in a bowl with the onion mixture, oregano, lemon rind, mustard, eggs, mince, extra bacon, salt and pepper and mix to combine.

Divide between the tins and fold over the bacon. Bake for 25–30 minutes or until cooked through. Increase temperature to 220°C (425°F). Set aside for 5 minutes before inverting onto a tray lined with non-stick baking paper. Bake for a further 5–10 minutes or until golden.

Serve with cornichons and onion jam, if desired. Makes 6.

Tips: When lining the tin with prosciutto, bacon or other cured meats, it's important to cover the base and sides of the tin completely by overlapping the slices. This will ensure the meatloaf is covered and keeps it succulent as it cooks. It also adds an extra depth of flavour and colour to the meatloaf. You can use pancetta, prosciutto, bacon or speck to line the tins. When spooning the meatloaf mixture into the prepared tins, be sure to use the back of a spoon to press the meat down firmly. This will help your meatloaf to hold its shape and will give it an even texture.
To Freeze: Keep meatloaf in air-tight containers in the refrigerator for up to three days. To freeze, simply slice the cooked meatloaf and place between sheets of non-stick baking paper in air-tight containers. You can freeze meatloaf for up to three months. Simply defrost in the fridge overnight before reheating.
There are no comments for this entry yet.