baked mushroom, bacon
and spinach risotto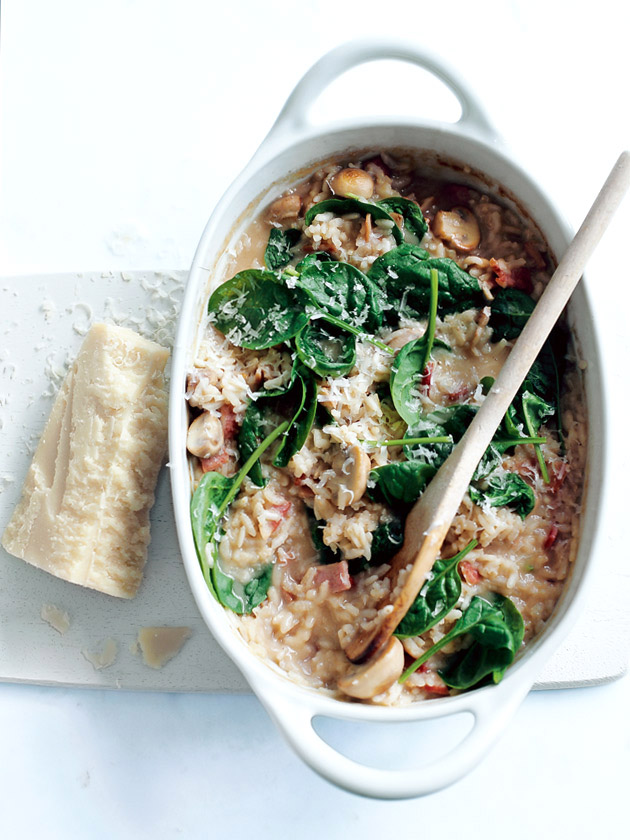 1 tablespoon olive oil

1 clove garlic, crushed

150g button mushrooms, roughly chopped

2 rashers bacon, rind removed, roughly chopped

¾ cup (150g) arborio rice

2 ¼ cups (560ml) chicken stock

30g baby spinach leaves

½ cup (40g) finely grated parmesan

20g butter

sea salt and cracked black pepper

Preheat oven to 180°C (355°F). Heat the oil in a large non-stick frying pan over medium heat. Add garlic, mushrooms and bacon and cook for 5 minutes or until browned.

Place in a 5 cup-capacity (1.25L) ovenproof dish with the rice and stock and stir to combine. Cover tightly with aluminum foil and bake for 40 minutes or until most of the stock is absorbed and rice is al dente.

Stir through the spinach, parmesan, butter, salt and pepper. Serves 2.

Barbara Hodges
Such an easy recipe. Minimal prep, put it in the oven and forget it until it's time to serve dinner. A quick spruce up with spinach, cheese and butter and voila! No one will know that you didn't stand stirring the risotto for hours! My sort of risotto!
Yoshi B
This recipe is amazing, so easy and delicious every time.
A tip for anyone wanting to make a vegan option, this turned out brilliantly and tasted on par with the non-vegan version I reckon:
- sub in meat alternative for bacon (I used Next veg bacon from Woolworths and added some 'Deliciou' Bacon flavour)
- vegan cheese instead of parmesan
- vegan butter or olive oil instead of butter
Angelica Bolwerk
Delicious and yet so easy!!! Love it!
donna hay team
Hi Phoebe, When doubling the recipe, we are unsure of a precise cooking time as we have not tested the recipe. Depending on the dish size you use, we recommend cooking for 40 minutes to start. If the stock has not absorbed, then continue cooking in 10 minute increments. Hope this helps! the dh team
Phoebe Dorney
Delicious and easy recipe! If I doubled the recipe, how much more cooking time would this need?
Jessica Johnson
Nice and easy recipe that even my husband can cook mid week.
Kim Anzlovar
This was quite good enjoyed it.
Bonita Kennedy
This was delicious! Although I had a moment of panic after 40 minutes as it didn't look even close. I doubled the recipe so took about 50 minutes but it was definitely worth the wait.
sharon gascoigne
I have tried many risottos and this is the best so easy & tasty love it!!!
Louise Allardice
Love this recipe. It's a super easy never-fail recipe that always turns out fantastically. It's one of those ones you can almost always throw together based on what you have in the pantry and freezer. We substitute the spinach with frozen peas and it's delish!
gayle symons
Great easy dish and tastes excellent.