baked sweet potatoes with hummus and kale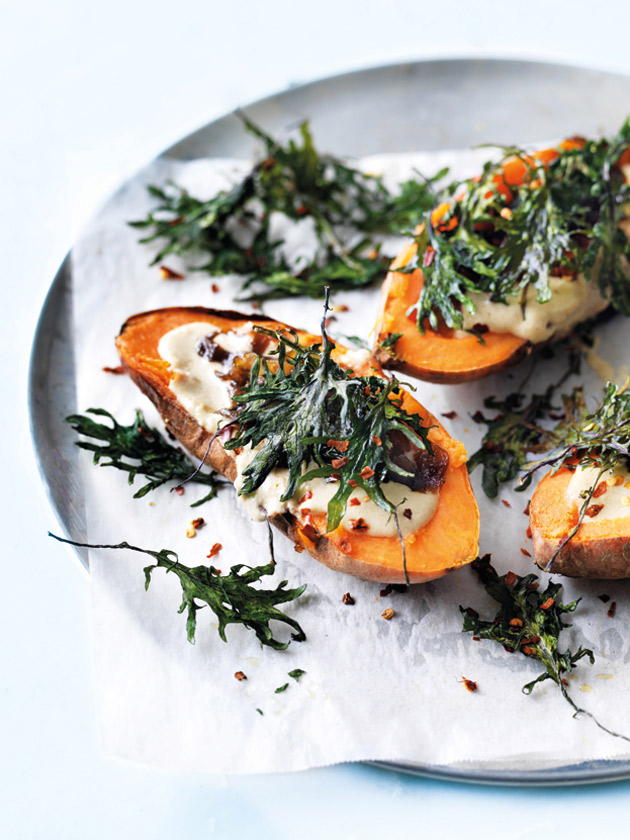 4 x 400g sweet potatoes (kumara)

2 tablespoons sea salt flakes

100g baby kale leaves

½ teaspoon dried chilli flakes

1 tablespoon extra virgin olive oil

sea salt and cracked black pepper

1 cup (260g) store-bought hummus

¼ cup (70g) store-bought caramelised onion relish

Preheat oven to 200°C.

Place the sweet potatoes on an oven tray, pierce with a fork and rub with the salt. Bake for 1 hour–1 hour and 10 minutes or until cooked through.
While the sweet potatoes are cooking, place the kale, chilli, oil salt and pepper on a large oven tray lined with non-stick baking paper and toss to combine. Cook for 8–10 minutes or until golden and crispy. Set aside to cool.

Halve the sweet potatoes and top with the hummus, caramelised onion and crispy kale to serve. Serves 4.

Marianne Caddy
Great dish in taste, looks and nutrients! Brought some zing to our roast turkey and will permanently add to our Christmas menu.