miso and orange-glazed salmon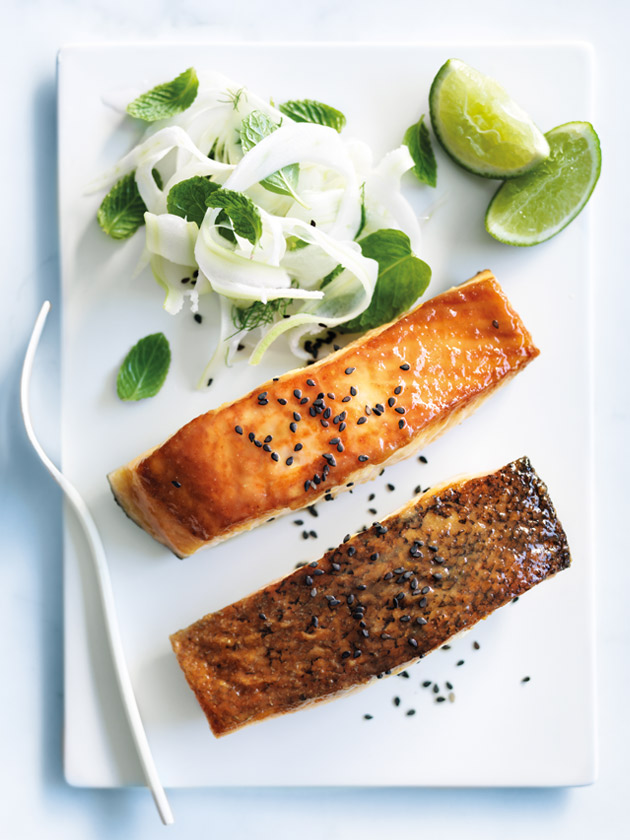 1½ tablespoons extra virgin olive oil

4 x 200g salmon fillets, skin on

2 x bulbs baby fennel, thinly sliced

½ cup mint leaves

1 tablespoon orange juice

sea salt and cracked black pepper

black sesame seeds and lime wedges, to serve

miso and orange glaze
2 tablespoons white miso paste (see tip)

1 tablespoon maple syrup

2 tablespoons orange juice

To make the miso and orange glaze, place the miso, maple syrup and orange juice in a small bowl and whisk to combine. Set aside.

Heat 2 teaspoons of the oil in a large non-stick frying pan over medium heat and cook the salmon, skin-side up, for 3–4 minutes. Turn and cook for a further 2–3 minutes or until golden and just pink in the centre. Spoon the glaze over the salmon, turn to coat and remove from the heat.

Place the remaining oil, fennel, mint, orange juice, salt and pepper in a large bowl and mix to combine. Divide between plates with the salmon, sprinkle with the sesame seeds and serve with lime wedges. Serves 4.

Tip: Find miso paste in the international aisle of the supermarket or at Asian grocers.
There are no comments for this entry yet.