crispy pea and mint risotto balls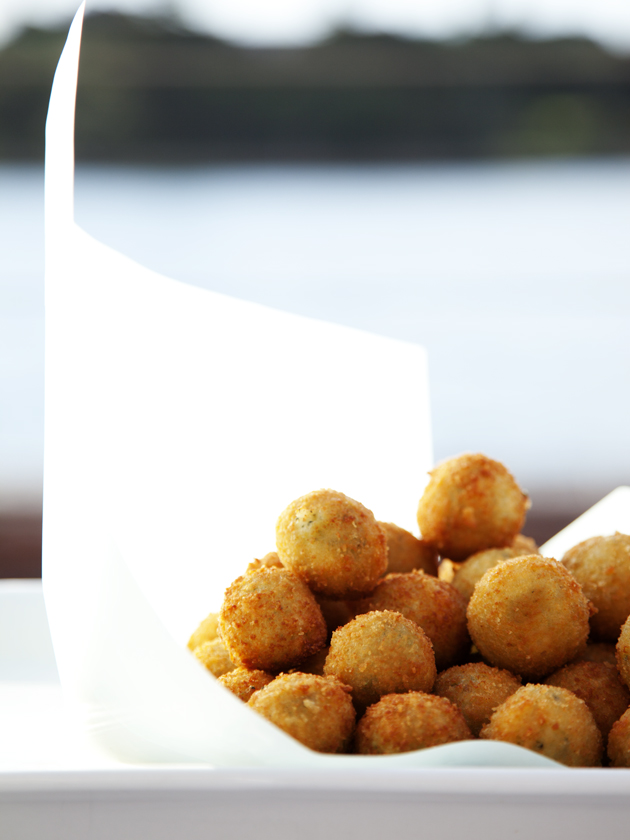 1.25 litres chicken stock

60g butter

1 brown onion, finely chopped

2 cups (400g) arborio rice

½ cup (125ml) dry white wine

1 cup (100g) grated mozzarella

1 cup (80g) finely grated parmesan

sea salt and cracked black pepper

1½ cups peas (180g), blanched and lightly crushed

1 cup mint leaves, chopped

⅓ cup (80ml) lemon juice

⅓ cup finely grated lemon rind

4 cups (350g) fresh breadcrumbs

6 eggs, lightly beaten

plain (all-purpose) flour, for dusting

vegetable oil, for frying

Heat the stock in a large saucepan over medium heat. In a separate saucepan melt the butter over medium heat. Add the onion and cook for 5 minutes or until softened. Add the rice and wine and cook, stirring, for 1–2 minutes or until all the wine is absorbed. Gradually add the hot stock, 1 cup (250ml) at a time, stirring continuously, for 25–30 minutes or until all the stock is absorbed and the rice is tender.
Spread the risotto onto a tray and allow to cool slightly. Add the mozzarella, parmesan, salt and pepper, peas, mint, lemon juice and lemon rind and mix to combine.
Shape teaspoonfuls of risotto mixture into balls, dip into the flour and egg and toss in the breadcrumbs until well coated. Repeat the process to double coat the balls.
Heat oil in a large, deep saucepan over high heat until hot. Deep-fry the risotto balls, in batches, until crisp and golden. Drain on absorbent paper. Makes 18.
janet nagly
Absolutely fabulous. Light and more-ish. Kids love them.