beef, oregano and tomato meatballs with quinoa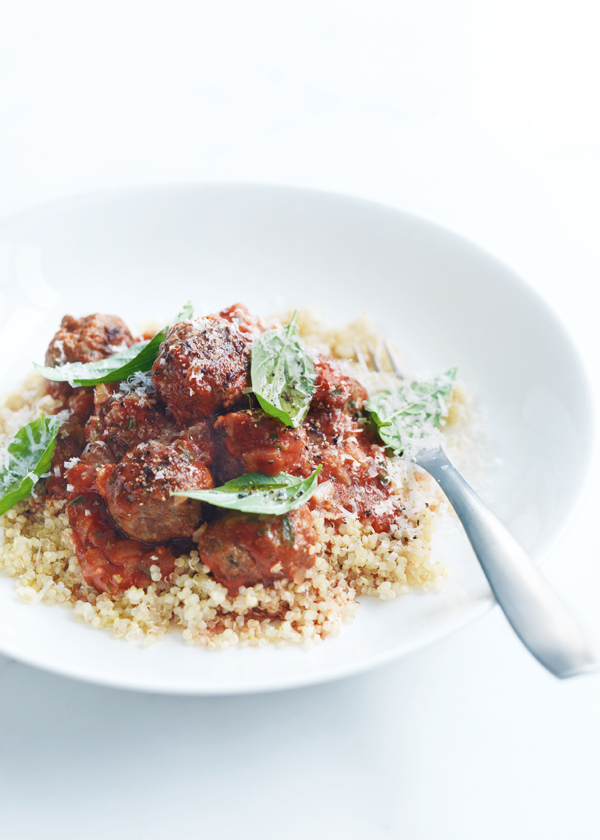 2 cups (400g) quinoa
450g beef mince
2 tablespoons chopped oregano leaves
sea salt and cracked black pepper
¼ cup (20g) finely grated parmesan, plus extra, to serve
1 egg, lightly beaten
3 cloves garlic, crushed
1 tablespoon olive oil
1 brown onion, peeled and chopped
680ml tomato purée (tomato passata)
1 teaspoon caster (superfine) sugar
2 tablespoons chopped basil, plus extra leaves, to serve
Soak the quinoa in a saucepan with 3 cups (750ml) water for 15 minutes. Place the saucepan over high heat and bring to the boil. Reduce heat to low and cook, covered, for 15 minutes or until all the water is absorbed. Set aside.

Place the mince, oregano, salt, pepper, parmesan, egg, and half the garlic in a bowl and mix to combine. Roll tablespoonfuls of the mixture into balls and refrigerate for 20 minutes.

Heat half the oil in a frying pan over medium heat. Add the meatballs and cook for 6–8 minutes or until cooked through. Set aside.

Heat the remaining oil in the frying pan over medium heat. Add the onion and remaining garlic and cook for 6 minutes or until softened. Add the tomato purée, sugar and basil and cook for 4 minutes or until thickened slightly. Return meatballs to the sauce and mix to coat. Top the quinoa with the meatballs and sprinkle with extra parmesan and basil to serve. Serves 4.

There are no comments for this entry yet.