classic chocolate cake
with chocolate buttercream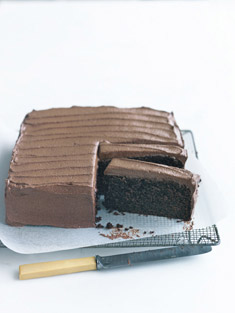 170g butter, softened

1½ cup (265g) brown sugar

2 eggs

1½ teaspoon bicarbonate of (baking) soda

1½ cup (375ml) milk

2¼ cups (335g) plain (all-purpose) flour, sifted

3 teaspoons baking powder, sifted

½ cup (50g) cocoa, sifted

chocolate butter cream
250g butter, softened

2 cups (320g) icing sugar mixture, sifted

½ cup (50g) cocoa, sifted

¼ cup (60ml) milk

Preheat oven to 160ºC (320ºF). Beat the butter and sugar with an electric mixer until pale and creamy. Gradually add the eggs and beat well. Dissolve the bicarbonate of soda in the milk and add to the butter mixture with the flour, baking powder and cocoa. Beat until combined.
Spoon into a lightly greased 22cm-square cake tin lined with baking paper. Bake for 1 hour or until cooked when tested with a skewer. Cool on a wire rack.
For the buttercream, beat the butter until pale and creamy. Add the icing sugar, cocoa and milk and beat until fluffy. Spread over the cake. Serves 8.

Megan Williams
Easy and delicious cake. Recipe makes a bit more than a standard sized cake so use a deep tin. Definitely would recommend this cake!