honey and gingerbread bundt cakes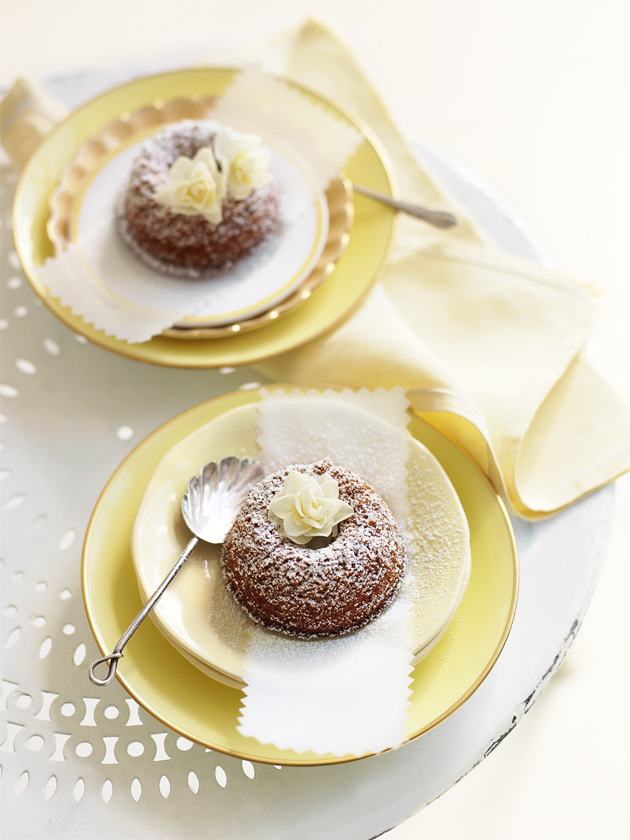 ¼ cup (90g) honey

¼ cup (90g) golden syrup

½ cup (90g) brown sugar

¾ cup (180ml) milk

¾ cup (105g) plain (all-purpose) flour, sifted

1¼ teaspoons baking powder, sifted

1 teaspoon ground ginger

½ teaspoon mixed spice
a pinch of nutmeg 65g butter, chopped 1 egg icing (confectioner's) sugar, to serve

Preheat oven to 180ºC (350ºF). Place the honey, golden syrup, sugar and milk in a small saucepan over medium heat and stir until the sugar is dissolved. Set aside to cool until lukewarm.
Place the flour, baking powder, ginger, mixed spice, nutmeg and butter in a food processor and process until the mixture resembles fine breadcrumbs. While the motor is running, gradually add the honey mixture and process until smooth. Add the egg and process for a further 1 minute. Spoon the mixture into 12 x ¹⁄³ cup-capacity (80ml) lightly greased mini Bundt tins and bake for 20–25 minutes or until cooked when tested with a skewer. Turn the tins upside down and allow to cool slightly. Remove the cakes and allow to cool completely on a wire rack. Dust with icing sugar to serve. Makes 12.

Tip: You can top the cakes with your favourite spring blossom for a pretty spring finish.

There are no comments for this entry yet.