Chocolate wafer log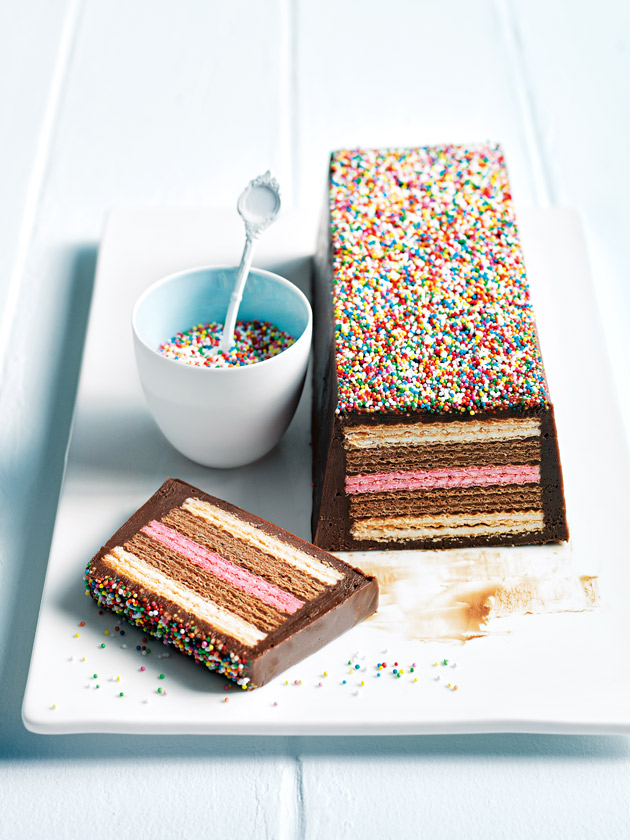 700g mil chocolate, finely chopped

½ cup (125ml) water

2 tablespoons coloured sprinkles, plus extra, for sprinkling

400g coloured wafer biscuits

Line a lightly greased 7cm x 8cm x 22cm (1.5 –litre capacity) loaf tin with non-stick baking paper and set aside.
Place the chocolate water in a medium saucepan over low heat and cook, stirring frequently, until well combined. Sprinkle the coloured sprinkles over the base of the prepared tin and spoon over 1/3 cup of melted chocolate. Spread evenly with a palette knife and refrigerate for 20 – 30 minutes or until just set.
Place one layer of the wafer biscuits on top of the set chocolate. Top with 2 table spoons melted chocolate and spread evenly with a palette knife to create a thin layer. Repeat with remaining wafer biscuits and melted chocolate. Press down lightly and poor over the remaining chocolate.
Lightly tap the tin to remove any air bubbles and smooth the top with a palette knife. Refrigerate for 2 – 3 hours or until completely set.
Carefully invert the log and remove the non-stick baking paper. Top with extra coloured sprinkles to serve. Serves 8.
+If the melted chocolate cools too much and begins to harden, simply return to a low heat and stir until softened.
+When lining the tin with non-stick baking paper, allow some paper to overhang the sides of the tin as this will make removing the log easier
+The log can be made a day ahead and kept refrigerated overnight.
There are no comments for this entry yet.