roast spatchcock
with pistachio couscous stuffing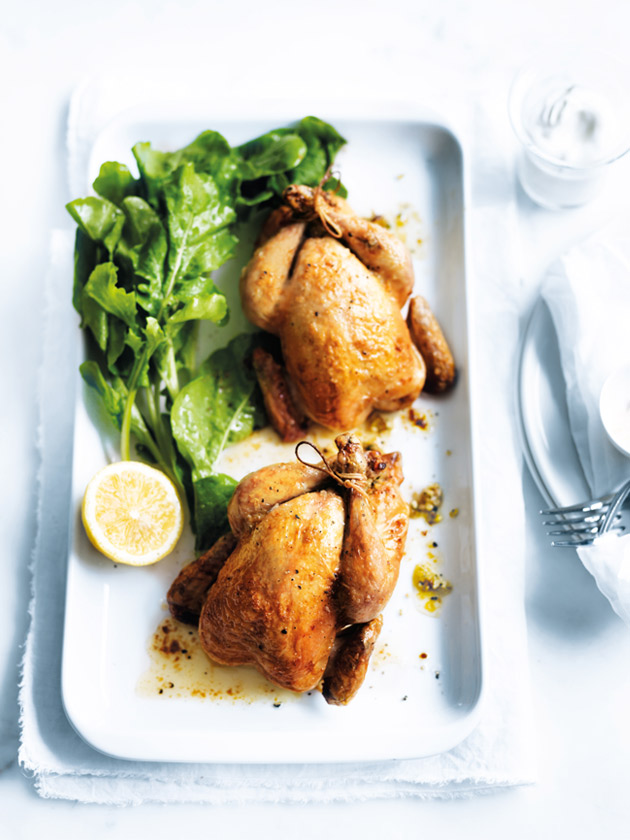 2 tablespoons instant couscous

2 tablespoons boiling water

¼ cup (35g) shelled pistachios, chopped

½ cup flat-leaf parsley leaves, chopped

1 tablespoon finely grated lemon rind

1 clove garlic, crushed

sea salt and cracked black pepper

2 x 500g spatchcocks+

1 tablespoon extra virgin olive oil, plus extra for drizzling

1 bunch (100g) rocket leaves

plain Greek-style (thick) yoghurt, to serve

lemon halves, to serve

Preheat oven to 220°C (425°F). Place the couscous and water in a medium bowl, stir to combine and cover tightly with plastic wrap. Set aside for 10 minutes or until tender. Fluff the couscous with a fork and stir through the pistachio, parsley, lemon rind, garlic, salt and pepper.
Spoon the couscous stuffing into the cavity of each spatchcock and secure the legs with kitchen string. Place on a baking tray lined with non-stick baking paper, drizzle with the oil and sprinkle with the salt and pepper. Roast for 30–35 minutes or until golden and cooked through.
Serve with the rocket, yoghurt, lemon and a drizzle of the extra oil. Serves 2

+ Spatchcock is a young chicken that has been specially prepared to make roasting or grilling easier. They are available from most supermarkets, poultry stores and butchers.
Tip: the spatchcocks can be stuffed a day in advance. Keep refrigerated until ready to cook.
There are no comments for this entry yet.