thai eggplant jungle curry with rare roast beef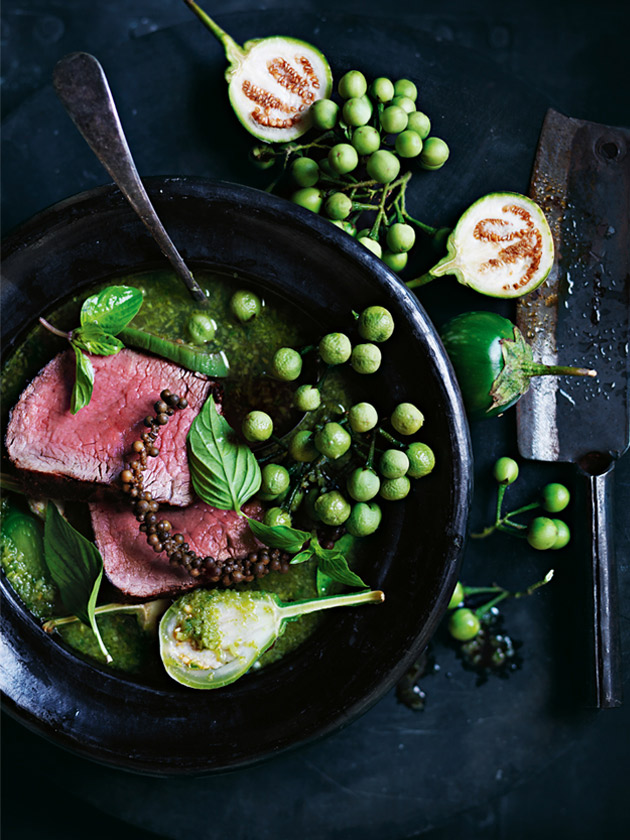 800g beef eye fillet, trimmed and tied

sea salt and cracked black pepper

1 litre coconut water

3 thai lime leaves

2 tablespoons grated palm sugar

1 tablespoon fish sauce

100g pea eggplants+

100g Thai apple (kermit) eggplants++, halved

250g Thai long green eggplants+++, sliced

1 stalk green peppercorns in brine++++

2 tablespoons lime juice

steamed rice, to serve

2 cups Thai basil leaves, to serve

jungle curry paste
4 long green chillies, chopped

2 eschalots (French shallots), peeled and halved

4 cloves garlic

1 x 4cm piece galangal, peeled and chopped

1 stalk lemongrass, white part only, chopped

4 x 5cm lengths coriander root

2 tablespoons peanut oil

1 teaspoon shrimp paste

Preheat oven to 200°C (400°F). Heat a large non-stick frying pan over high heat. Sprinkle the beef with salt and pepper and cook, turning, for 4 minutes or until browned. Place on an oven tray and roast for 15–18 minutes for rare or until cooked to your liking. Allow to rest for 5 minutes before thinly slicing. While the beef is cooking, make the curry paste. Place the chilli, eschalot, garlic, galangal, lemongrass, coriander roots, oil and shrimp paste in a small food processor and process until smooth.
Transfer to a medium saucepan over high heat and cook, stirring, for 3–4 minutes or until fragrant and the oil has separated. Add the coconut water, lime leaves, palm sugar and fish sauce and bring to the boil. Reduce the heat to medium, add the pea eggplants and cook for 3 minutes. Add the apple eggplant and cook for 4 minutes. Add the long green eggplant and peppercorn stalk and cook for 1 minute or until just tender. Add the lime juice and stir to combine. Divide the rice and curry between serving bowls and top with the beef and basil to serve. Serves 4.
+ Pea eggplants are from Asian grocers.
++ Thai apple (kermit) eggplants are from Asian grocers.
+++Thai long green eggplants are mild and sweet. Find them in Asian grocers.
++++ You can find green peppercorns in brine at some supermarkets and in Asian grocery stores.
There are no comments for this entry yet.