breakfast parfait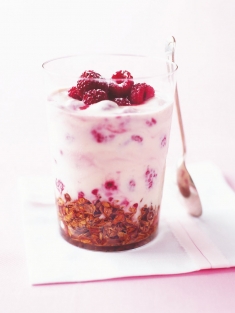 1⅔ cups (250g) frozen raspberries

500g thick natural yoghurt

1 tablespoon icing (confectioner's) sugar

1 cup (130g) toasted muesli

⅓ cup (80ml) honey

frozen raspberries, extra, to serve

Lightly crush the raspberries with a fork, fold through the yoghurt and icing sugar. Divide the muesli between 4 glasses. Top each with 1 tablespoon of honey.
To serve, spoon over the yoghurt mixture, top with the extra raspberries and spoon over remaining honey. Serves 4.

There are no comments for this entry yet.