blueberry pancakes
with maple syrup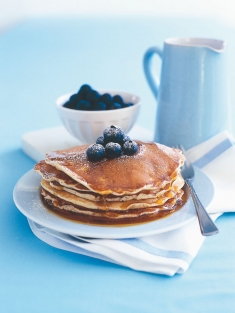 2 cups (300g) plain (all-purpose) flour, sifted

3 teaspoons baking powder, sifted

½ cup (110g) caster (superfine) sugar

2 eggs

2¼ cups (560ml) milk

75g unsalted butter, melted

¾ cup (115g) frozen blueberries

fresh blueberries, to serve

maple syrup, to serve

icing (confectioner's) sugar, for dusting

Place the flour, baking powder and sugar in a bowl and make a well in the centre. Combine the eggs, milk and butter, gradually pour into the well and whisk until smooth. Stir in the frozen blueberries.
Heat a lightly greased non-stick frying pan over low heat. Cook ¼ cups of the pancake mixture for 2 minutes or until bubbles appear on the surface. Flip and cook for a further 1−2 minutes or until light golden. Repeat with the remaining mixture.
Stack the pancakes, top with the fresh blueberries, pour over the maple syrup and dust with icing sugar to serve. Makes 16.

donna hay team
Hi Karl, if the butter was really hot when combined with the cold milk and egg mixture, it may have formed clumps as a result of cooking too quickly. Additionally, the almond milk may react differently compared to regular milk (which is slightly acidic), when mixed with baking powder, so maybe it didn't rise quite as well as a result of that. DH team.
Karl Uhrich
We followed the recipe exactly *except* we used almond milk instead of milk milk. We also heated the butter. The result was very thin pancakes dotted with congealed butter. The blueberries were much taller than the pancakes. I have to say they were delicious but they did look funny. Wondering if it's because of the milk substitution or something else we did?