soft-poached eggs with sweet potato hash browns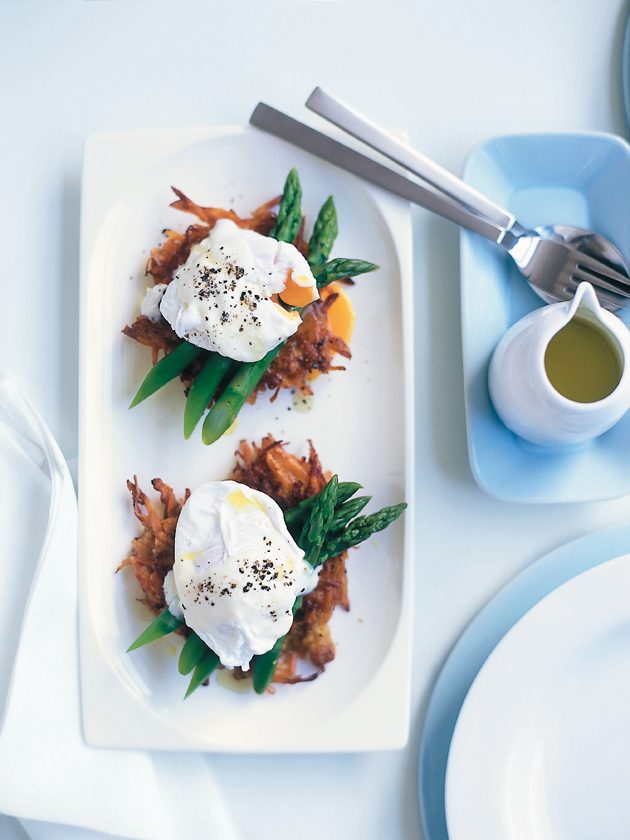 300g sweet potato, peeled and grated

6 eggs

sea salt and cracked black pepper

vegetable oil, for shallow-frying

1 tablespoon white wine vinegar

8 spears asparagus, trimmed and blanched

creamy horseradish sauce
1 tablespoon finley grated horseradish

¼ cup (60ml) sour cream

2 teaspoons lemon juice

sea salt and cracked black pepper

To make the creamy horseradish sauce, place the horseradish, sour cream, lemon juice, salt and pepper in a small bowl and stir to combine. Set aside.

Place the sweet potato, 2 eggs, salt and pepper in a bowl and mix well to combine. Heat 1cm oil in a non-stick frying pan over medium heat. Cook ¼ cups of the sweet potato mixture for 2−3 minutes each side or until golden and crispy. Drain on absorbent paper and keep warm.

Heat a few centimetres of water in a deep frying pan over low heat until just simmering. Add the vinegar and use a wooden spoon to create a whirlpool.

Crack each egg into a bowl and slip into the water. Poach the eggs for 3−4 minutes, remove with a slotted spoon and drain well. Top the hash browns with the asparagus and eggs and spoon over the creamy horseradish sauce to serve. Serves 4.

There are no comments for this entry yet.