chia and sesame pumpkin
with ginger-honey glaze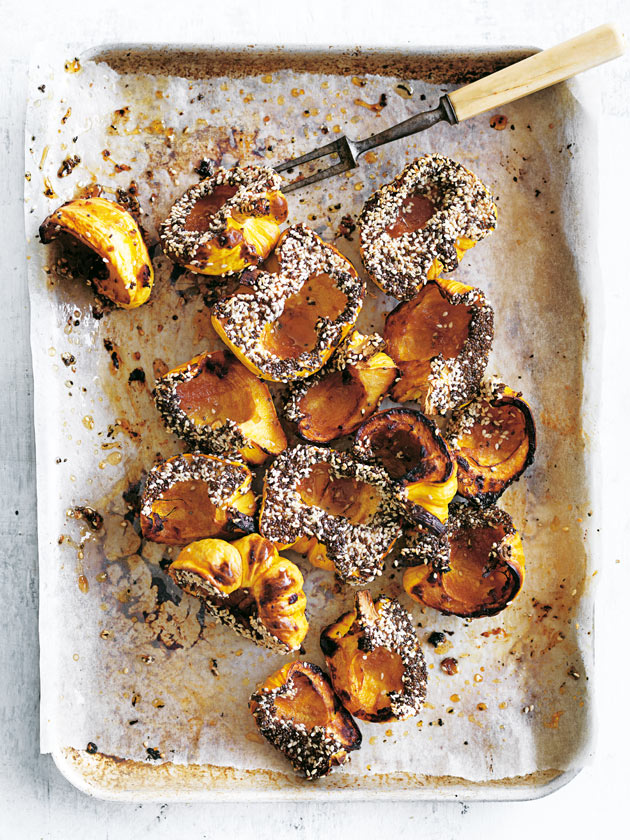 1 tablespoon grated ginger

2 cloves garlic, crushed

1 tablespoon sesame oil

1 tablespoon white miso paste

¼ cup (90g) honey

6 Golden Nugget pumpkins (squash)+, halved, quartered and deseeded ¼ cup (50g) black chia seeds

¼ cup (40g) sesame seeds

Preheat oven to 200°C (400°F). Place the ginger, garlic, oil, miso and 1 tablespoon of the honey in a large bowl and stir to combine. Add the pumpkin and toss to coat.

Place the chia seeds and sesame seeds on a plate and stir to combine. Press the cut-edge of the pumpkin into the seed mixture and place on a large oven tray lined with non-stick baking paper. Repeat with the remaining pumpkin.
Place in the oven and cook for 20–25 minutes or until tender. Drizzle over the remaining honey and cook for 5 minutes. Serve.
Serves 4–6.

+ Golden Nugget pumpkin is an heirloom variety grown in Australia that is small and spherical. You can use any baby pumpkin variety, or cut a large pumpkin into wedges.
There are no comments for this entry yet.