tray-baked tomato, onion and currant relish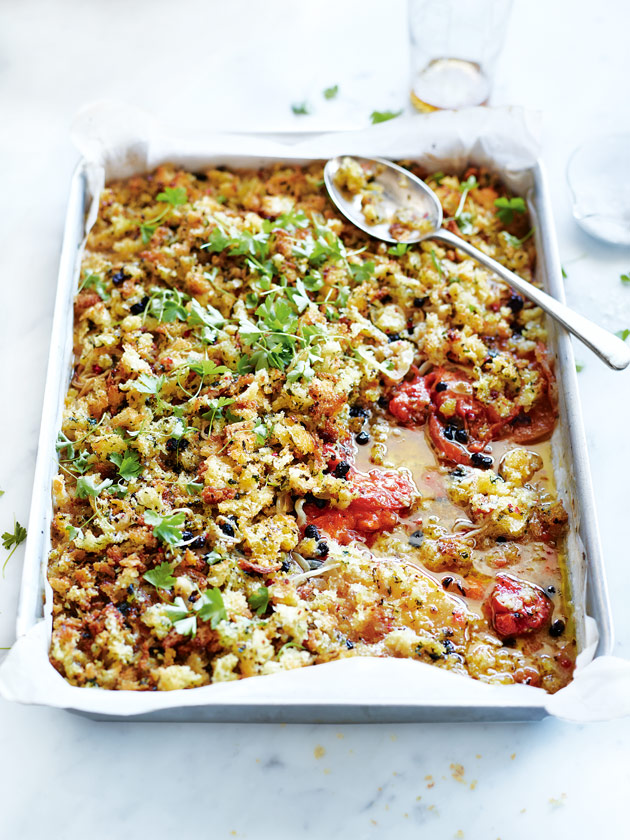 1 brown onion, thinly sliced

⅓ cup (80ml) sherry vinegar

¼ cup (45g) brown sugar

2 teaspoons Dijon mustard

¼ cup (40g) currants

1 teaspoon crushed pink peppercorns+

10 large heirloom tomatoes, sliced

sea salt and cracked black pepper

3 cups (210g) fresh sourdough breadcrumbs

100g unsalted butter, melted

½ cup flat-leaf parsley leaves, finely chopped

1 tablespoon thyme leaves, finely chopped

baby (micro) parsley leaves (optional), to serve

Preheat oven to 220°C (425°F). Place the onion, vinegar, sugar, mustard, currants and peppercorns in a bowl, toss to combine and set aside to marinate for 5 minutes.

Arrange the tomatoes in rows in a deep-sided 37cm x 24cm deep-sided baking tray lined with non-stick baking paper. Top with the onion mixture, salt and pepper.
Mix to combine the breadcrumbs, butter and chopped herbs and sprinkle over the tomatoes. Cover the tray with aluminium foil and bake for 15 minutes or until the tomatoes start to soften.
Reduce the heat to 180°C (350°F), remove the foil and bake for a further 10–15 minutes or until the breadcrumbs are golden. Scatter with the baby parsley to serve. Serves 8–10.

+ Buy pink peppercorns at delis or specialty food shops.

Tip: You can bake the tomatoes, covered with foil, ahead of time. Before serving, remove the foil, and finish baking as per the recipe. This relish is great with ham or turkey.
There are no comments for this entry yet.