chilli and peach jam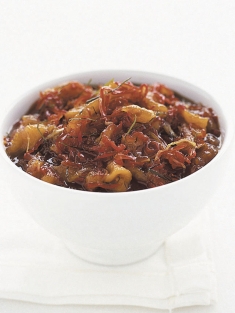 2 teaspoons peanut oil

8 mild large red chillies, seeds removed and sliced

6 kaffir lime leaves, shredded

6 large peaches (1.1kg), cut into wedges

¾ cup (185ml) white vinegar

1¼ cups (275g) white sugar

Heat a large frying pan over medium heat. Add the oil, chilli and ginger and cook for 2 minutes or until fragrant. Add the lime leaves, peach, vinegar and sugar and stir until combined. Simmer for 20 minutes or until thick. Serve warm or chilled with roasted turkey, chicken or pork. Makes 2 cups.

donna hay team
Hi Leonie, yes this should be fine to store in an airtight jar. Good luck! The dh team
Leonie Kendall
The cookbook recipe says this will last refrigerated for up to one month, but if it is vacuum sealed in a jar is it ok to store in a pantry until open like normal chutney / jams?