japanese chicken and mushroom soba noodle soup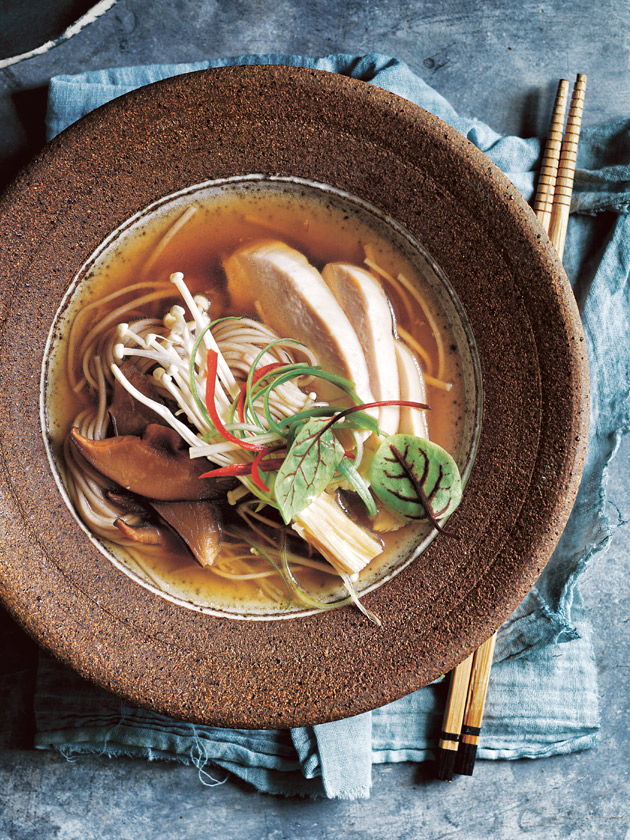 2 teaspoons sesame oil
2 cloves garlic, crushed
2 tablespoons grated ginger
1 tablespoon white miso paste
2 litres hot chicken stock
2 cups (500ml) hot water
1 cup (18g) dried shiitake mushrooms
1kg chicken breast fillets, trimmed
270g soba noodles
200g enoki mushrooms, trimmed
2 green onions, thinly sliced
2 long red chillies, thinly sliced
red-vein sorrel leaves, to serve
Heat the oil in a large saucepan over low heat. Add the garlic, ginger and miso and cook, stirring, for 1–2 minutes.
Add the stock, water and shiitake mushrooms. Cover, bring to the boil and cook for 10 minutes.
Add the chicken and cook, uncovered, for 8–10 minutes or until cooked through. Remove the chicken and slice.
Add the noodles to the saucepan and cook for 5 minutes or until cooked.
Divide the noodles, chicken, soup and enoki mushrooms between bowls and top with the onion, chilli and sorrel to serve. Serves 4.
Catherine Defina
Delicious and surprisingly hearty Japanese style soup. Great for winter due to the warming properties of ginger and miso. Very easy to make.