berry ice-cream slice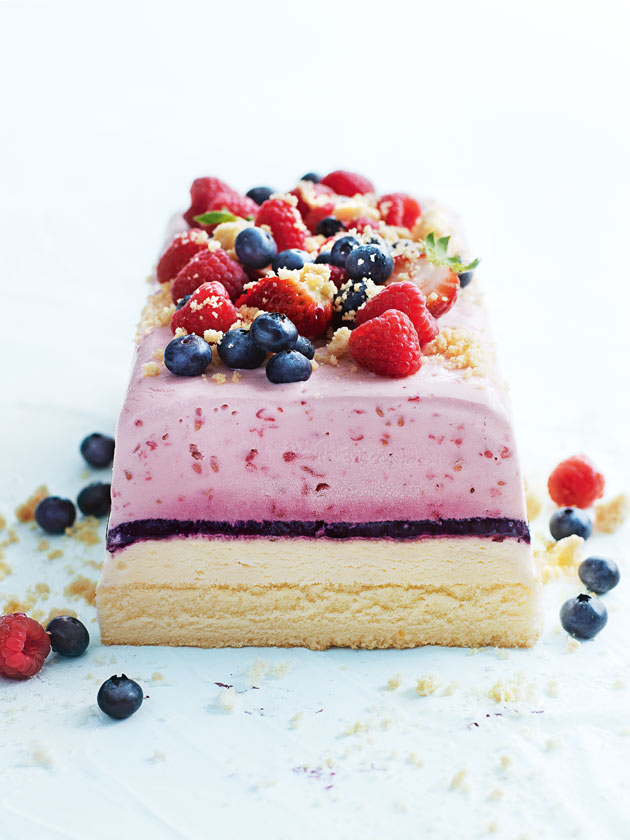 125g raspberries

½ cup (80g) icing (confectioner's) sugar, sifted

1 litre strawberry ice-cream

½ cup (160g) blueberry jam

1 litre vanilla ice-cream

1 x store-bought rectangular double sponge cake

125g strawberries, halved

125g raspberries, extra

125g blueberries

80g store-bought shortbread biscuits, crushed

Line a lightly greased 11cm x 26cm x 7cm (2.25-litre-capacity) tin with non-stick baking paper+ and freeze until ready to use.
Place the raspberries and sugar in a bowl and, using a fork, crush until smooth. Place the strawberry ice-cream in the bowl of an electric mixer and beat on low speed for 1–2 minutes or until softened. Add the raspberry mixture and beat until combined. Spoon into the tin and spread evenly with a palette knife. Freeze for 2 hours or until frozen.

Place the blueberry jam in a small bowl and stir well until it becomes smooth and soft. Spread the jam evenly over the berry ice-cream layer. Freeze for 1 hour or until set.

Place the vanilla ice-cream in the bowl of an electric mixer and beat on low speed for 1–2 minutes or until softened. Spoon onto the jam layer and spread evenly. Trim the sponge cake to fit the tin. Top the vanilla layer with the trimmed sponge and freeze for 3–4 hours or until frozen. Invert the cake onto a serving plate. Top with the berries and shortbread crumbs, and serve immediately. Serves 8–10

+ When lining your tin with baking paper, allow 3cm of overhang to sit above the edges of the tin to help you remove the cake.
cook's tips
+ To help loosen your ice-cream cake from the tin, rub the outside of the tin with a clean tea towel warmed under hot water. Use the baking paper to help you lift the cake from the tin.
+ This slice can be made 2–3 days ahead and stored in the freezer until ready to serve.
There are no comments for this entry yet.
Tags:
berry
,
blueberry
,
christmas
,
desserts
,
entertaining
,
ice-cream
,
ice-cream slice
,
raspberry
,
slice
,
strawberry
,