classic lamingtons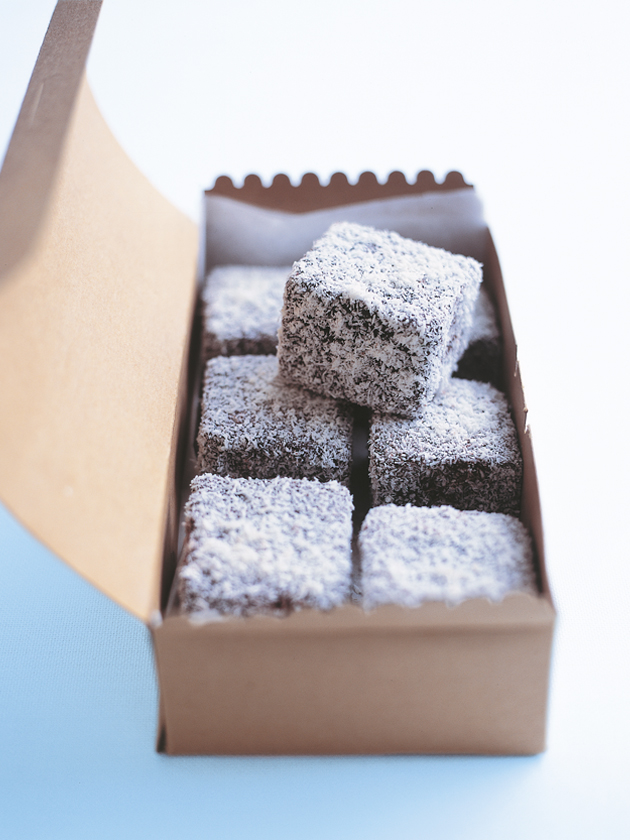 1 ⅓ cups (200g) plain (all-purpose) flour
½ teaspoon baking powder
8 eggs
1 cup (220g) caster (superfine) sugar
100g unsalted butter, melted
3 cups (450g) icing (confectioner's) sugar, sifted
¾ cup (90g) cocoa powder, sifted
1 cup (250ml) boiling water
¼ cup (60ml) milk
75g butter, melted, extra
desiccated coconut, to coat

Preheat the oven to 180°C (350°F). Sift the flour and baking powder three times. Set aside. Place the eggs and sugar in the bowl of an electric mixer and beat for 8–10 minutes or until thick, pale and tripled in volume. Sift the flour over the egg and sugar mixture and gently fold through using a metal spoon. Fold through the melted butter.
Grease 2 x 20cm square tin and line the bases with non-stick baking paper. Divide the mixture into tins and bake for 25 minutes or until the cakes are springy to touch and come away from the sides of the tins. Cool on a wire rack. Cut the sponges into 6cm squares.
Mix together the icing sugar, cocoa, water, milk and extra butter in a large bowl. Place the coconut in another bowl. Roll the sponge squares in the icing and then in the desiccated coconut. Place on a baking tray lined with non-stick baking paper and refrigerate until set. Makes 18.

There are no comments for this entry yet.