rhubarb, raspberry and coconut loaf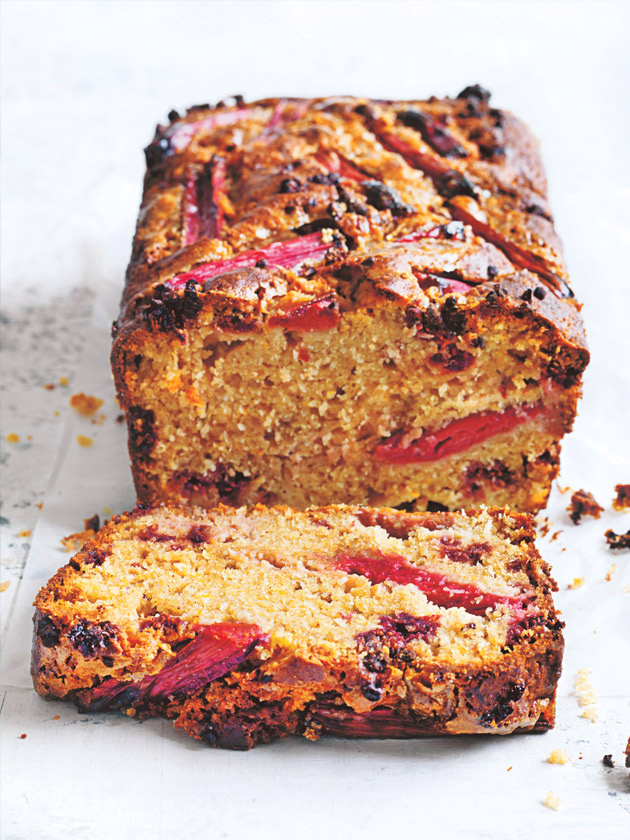 200g rhubarb, halved lengthways and cut into 5cm pieces

1 tablespoon maple syrup

⅔ cup (120g) rapadura sugar

1 cup (80g) desiccated coconut

2 teaspoons baking powder

2 eggs

1 cup (280g) natural Greek-style (thick) yoghurt

½ cup (125ml) light-flavoured extra virgin olive oil

2 teaspoons vanilla extract

1 cup (25g) freeze-dried raspberries (optional)

1 cup (160g) buckwheat flour, sifted

1 tablespoon finely grated orange rind

Preheat oven to 160°C. Place the rhubarb, maple syrup and half of the sugar in a medium bowl. Toss to combine and set aside.

Place the coconut, baking powder, eggs, yoghurt, oil, vanilla, raspberries (if using), flour, orange rind and remaining sugar in a separate large bowl and stir to combine. Add half of the rhubarb mixture and stir to combine. Pour into a lightly greased 10cm x 20cm loaf tin lined with non-stick baking paper. Top with the remaining rhubarb mixture, gently pushing it in to secure.

Bake for 1 hour and 25 minutes or until cooked when tested with a skewer. Set aside to cool slightly before removing from the tin. Slice and serve. Serves 8–10.

tips + tricks
+ Freeze-dried raspberries can be found in health food shops. If unavailable, omit from the recipe.
+ The loaf will keep in an airtight container in the refrigerator for up to 5 days.
Sophie Wester
Lovely and light but I would love it to be a little sweeter.