coconut lime cookie sandwiches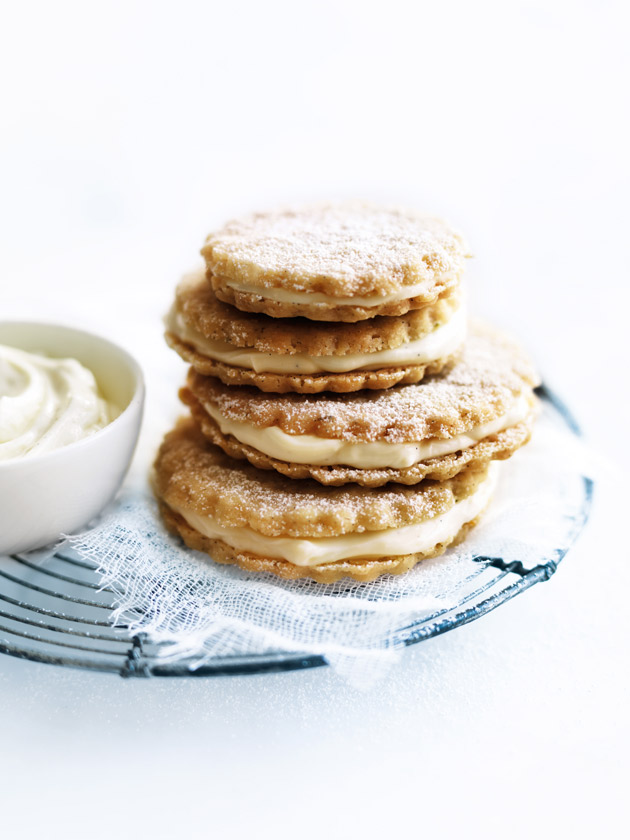 ½ cup (100g) coconut oil+, at room temperature

⅓ cup (75g) caster sugar

1 teaspoon vanilla bean paste

1 teaspoon finely grated lime rind

1 tablespoon milk

1 cup (150g) plain flour, sifted

icing sugar, for dusting

ricotta cream
½ cup (100g) ricotta

1 tablespoon icing sugar

½ teaspoon vanilla bean paste

To make the ricotta cream, place the ricotta, sugar and vanilla in a food processor and process until smooth. Refrigerate until ready to use. Preheat oven to 160°C. Place the oil, caster sugar, vanilla, lime rind and milk in a bowl and whisk until smooth. Add the flour and mix until a dough forms.
Roll out the dough between 2 sheets of non-stick baking paper to 3mm thick. Refrigerate for 3–5 minutes or until the dough is just firm. Using 5.5cm, 6.5cm and 7.5cm fluted cookie cutters cut out pairs of cookies. Place on lightly greased baking trays lined with non-stick baking paper and bake for 10–12 minutes or until golden on the edges.
Cool slightly before transferring to a wire rack to cool completely. Sandwich the cookies with the ricotta cream and dust with icing sugar to serve. Makes 8.

+ Find coconut oil in the health food aisle of most supermarkets and at health food stores.
Tip: Keep coconut oil at room temperature. It should be the consistency of butter. If it's too soft or melted, place in the fridge for a few minutes to firm up.
Tip: Swap the ricotta cream with store-bought caramel topping or melted dark chocolate.

There are no comments for this entry yet.