fudgy chocolate and hazelnut brownies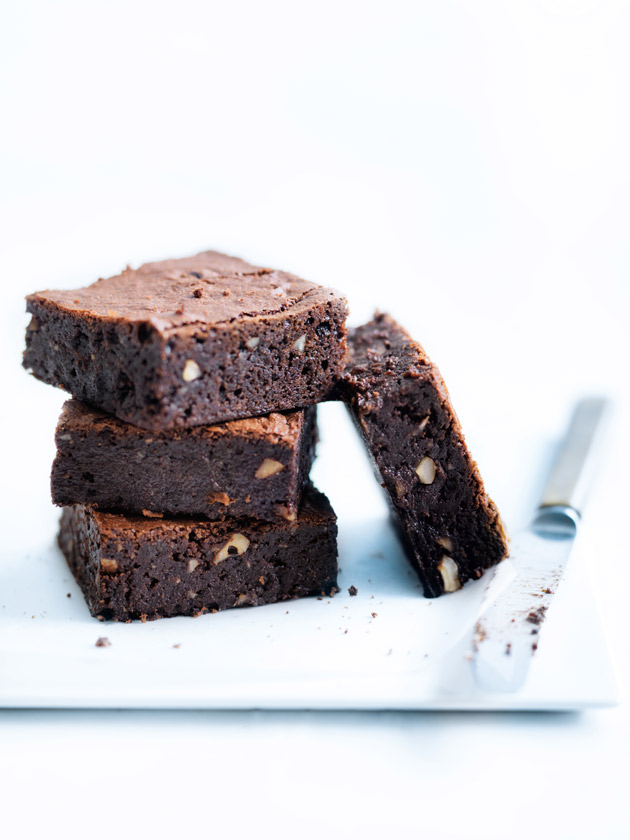 250g unsalted butter, chopped

200g dark chocolate, chopped

⅓ cup (65g) rice flour, sifted

¼ teaspoon baking powder, sifted

⅓ cup (35g) cocoa, sifted, plus extra, for dusting

1 cup (100g) hazelnut meal

1¾ cups (300g) brown sugar

⅓ cup (45g) hazelnuts, roughly chopped

4 eggs, lightly beaten

Preheat oven to 180°C. Place the butter and chocolate in a small saucepan over low heat, stirring frequently until melted and smooth. Allow to cool slightly. Place rice flour, baking powder, cocoa, hazelnut meal, sugar hazelnuts, eggs and chocolate mixture in a large bowl and mix to combine.
Spoon into a lightly greased 20cm x 30cm cake tin lined with non-stick baking paper. Bake for 30–35 minutes or until the centre is just set. Allow to cool completely in the tin and refrigerate for 1 hour+ before cutting into squares. Dust with cocoa to serve. Makes 20.

+ These brownies are designed to be deliciously soft in the centre. By refrigerating them you'll help them set but they'll still be fudgy!
donna hay team
Hi Michael, yes you can just go by the weight if that is easier. The weights obviously change to reflect the specific ingredient, brown sugar and rice flour are quite differing weights.
Michael Duligal
After looking at your recipes for chocolate brownies, all of them have different sizes relating to cup sizes. In this recipe, cup sizes are all over the place. Should these sizes be ignored and just use the weight?