pavlova cupcakes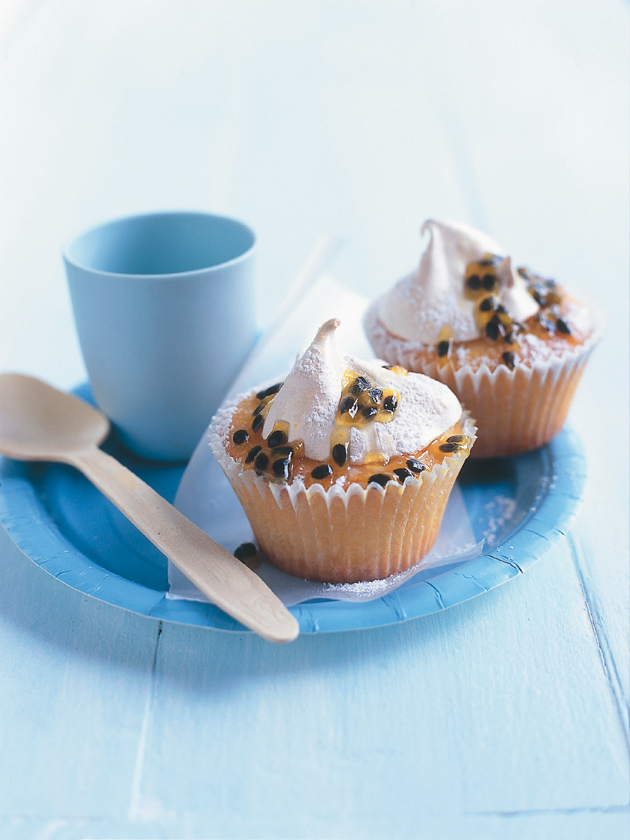 125g butter, softened
⅔ cups (150g) caster (superfine) sugar
1 teaspoon vanilla extract
2 eggs
1 cup (150g) self-raising (self-rising) flour
½ cup (125ml) milk
icing (confectioner's) sugar, for dusting
meringue
2 eggwhites
½ cup (110g) caster (superfine) sugar
½ teaspoon white vinegar
passionfruit syrup
¼ cup (60ml) passionfruit pulp*
¼ cup (55g) caster (superfine) sugar
¼ cup (60ml) water

Preheat oven to 160°C (320ºF). To make the passionfruit syrup, place the passionfruit pulp, sugar and water in a small saucepan over low heat and stir until the sugar is dissolved. Bring to the boil, reduce heat to low and simmer for 6–8 minutes or until thickened. Set aside.
To make the meringue, place the eggwhites in the bowl of an electric mixer and beat until stiff peaks form. Gradually add the sugar and vinegar and beat until the mixture is thick and glossy. Set aside.

Place the butter, sugar and vanilla in the bowl of an electric mixer and beat until light and creamy. Gradually add the eggs and beat well. Sift over the flour and beat until combined. Stir in the milk. Spoon the mixture into a 12 x ½ cup-capacity muffin tin lined with cupcake papers. Top with a tablespoon of meringue mixture and bake for 15 minutes or until cooked when tested with a skewer. Allow to cool.
To make the passionfruit syrup, . Spoon over the cupcakes to serve. Makes 12.

* When buying passionfruit, look for small fruit with deep purple skin which is quite leathery and wrinkled. This indicates ripeness. Panama passionfruit, which are slightly larger and have a less tart flavour than the regular variety, do not have wrinkled skin when ripe. Choose panama passionfruit which feel heavy for their size. You will need about 3 passionfruit for ¼ cup pulp or you can buy canned passionfruit pulp from supermarkets.
There are no comments for this entry yet.