broccoli quinoa risotto
with seared chicken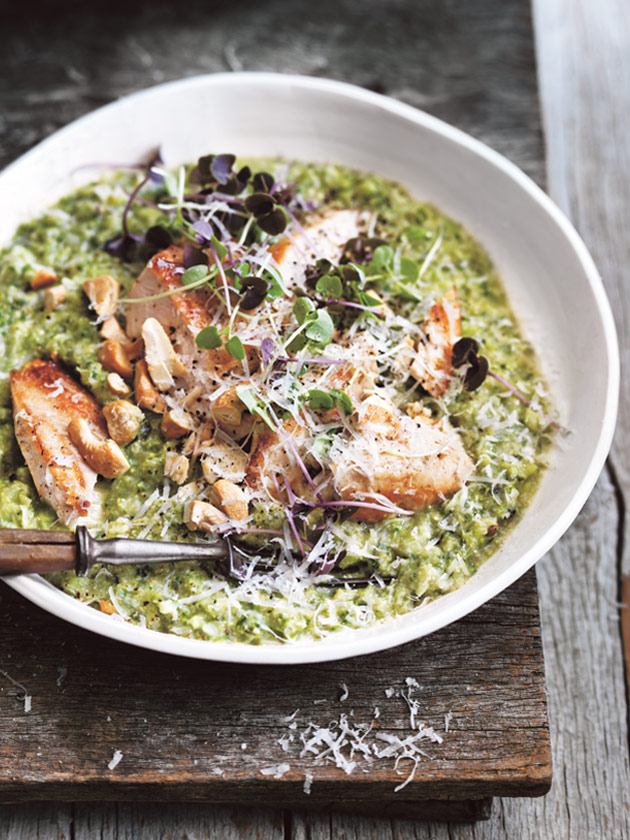 1 tablespoon extra virgin olive oil

800g chicken breast fillets, trimmed

sea salt and cracked black pepper

2 heads broccoli (700g), cut into florets

1 onion, finely chopped

2 cloves garlic, crushed

3 cups (750ml) chicken stock

1 cup (100g) quinoa flakes

¼ cup (40g) cashews, plus extra to serve

2½ cups basil leaves

⅓ cup (25g) finely grated parmesan, plus extra to serve

¼ cup (60ml) water

micro (baby) purple and green basil, to serve

Heat half the oil in a large frying pan over medium heat. Season the chicken with salt and pepper. Cook for 4–5 minutes each side or until cooked through. Set aside to rest before slicing.

Place the broccoli in a food processor and pulse until it resembles rice. Heat the remaining oil in a large saucepan over medium heat.
Add the onion and garlic and cook, stirring, for 3–4 minutes or until softened. Add the stock, broccoli and quinoa flakes. Cook for 6–8 minutes or until starting to bubble.

While the broccoli is cooking, place the cashews in the food processor and process for 2 minutes or until a paste forms. Add the basil, parmesan and water and process for 1–2 minutes or until smooth.
Add the pesto to the saucepan and stir to combine. Divide between bowls and top with the chicken, extra cashews, extra parmesan and basil to serve. Serves 4.
There are no comments for this entry yet.