butter chicken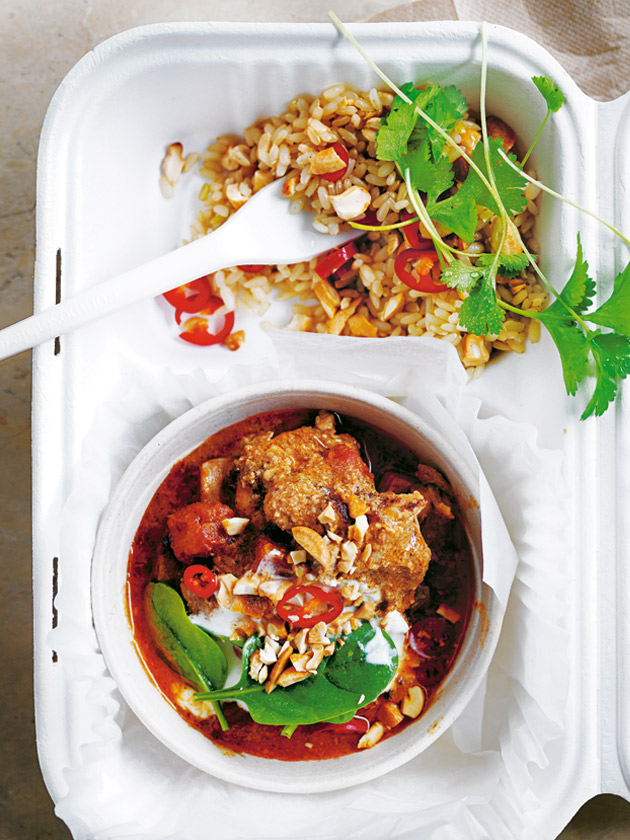 3 cloves garlic

1 tablespoon ground cinnamon

4 cardamom pods

1 brown onion, chopped

1 tablespoon chopped ginger

2 teaspoons garam masala

½ cup (75g) unsalted roasted cashews, plus extra, chopped, to serve

1 cup (280g) natural Greek-style (thick) yoghurt, plus extra to serve

2 teaspoons sea salt flakes

1kg chicken thigh fillets, trimmed and chopped into 4cm pieces

¼ cup (60ml) extra virgin olive oil

400g can chopped tomatoes

2½ cups (625ml) coconut water

2 cinnamon sticks

½ cup coriander (cilantro) leaves

1 long red chilli, thinly sliced

baby spinach leaves, to serve

steamed brown rice, to serve

Place the garlic, cinnamon, cardamom, onion, ginger, garam masala, cashew, yoghurt and salt in a food processor and process to a smooth paste. Place the marinade and chicken in a large bowl and mix to combine. Cover and refrigerate for 30 minutes to marinate.

Heat 1 tablespoon of the oil in a large saucepan over high heat. Add a third of the chicken, reserving the marinade, and cook for 2–3 minutes each side or until lightly charred. Set aside and repeat twice more with the remaining oil and chicken.

Reduce the heat to low, return the chicken to the pan and add the reserved marinade, tomato, coconut water and cinnamon. Cook, stirring occasionally, for 15–20 minutes or until the chicken is cooked through. Top with the coriander, chilli, spinach, extra yoghurt and cashews, and serve with rice. Serves 4.

Maddie Wong
Absolutely delicious meal that the whole family loved! I loved that the paste was made from scratch and that the recipe did not require me to buy 10 different spices from the supermarket! A very achievable meal to make mid-week! Thanks Donna!
Donna Gilbert
Love this recipe.
First time I made it I didn't have cashews so used pistachios and they worked well.
It freezes well too and I have even cooked it in the slow cooker, although the consistency was different it was still delicious.