roasted pumpkin soup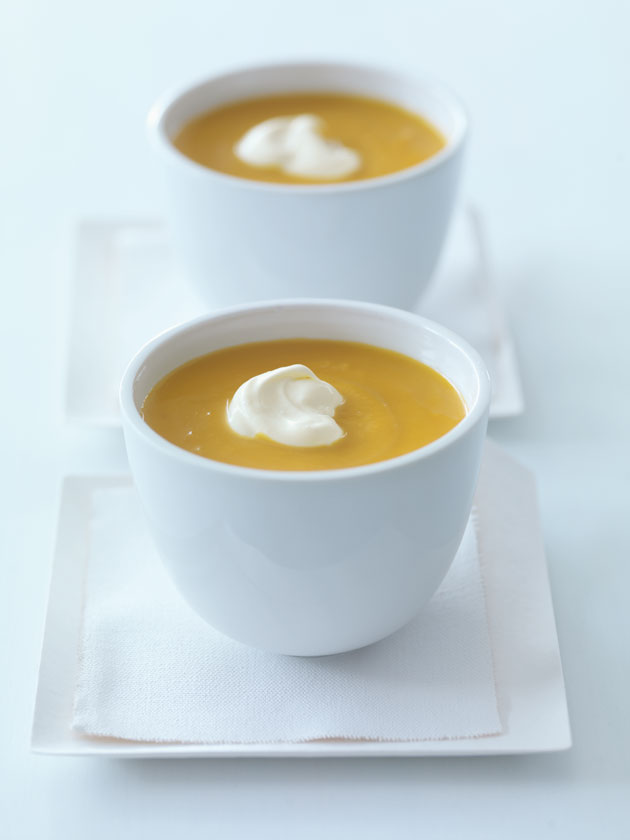 1 x 2kg whole butternut pumpkin
1 brown onion
extra virgin olive oil, for drizzling
sea salt
3½ cups (875ml) chicken stock
1 cup (250ml) single (pouring) cream
1 tablespoon honey
sour cream, to serve

Preheat oven to 220°C (425°F). Cut the pumpkin in half lengthways and scoop out the seeds. Place the pumpkin, cut-side up, along with the onion on a baking tray. Drizzle with a little oil and sprinkle with salt. Bake for 55–60 minutes or until the pumpkin is just soft and starting to brown.

Scoop the pumpkin flesh out of its skin into a blender. Scoop the onion flesh away from its skin and add to the blender. Add 1 cup (250ml) of the chicken stock and blend until smooth.

Pour the mixture into a saucepan, add the remaining stock, the cream and honey. Place over medium heat until the soup is heated through. Serve with sour cream. Serves 4.

Fally Choo
So easy this soup and it tastes like pumpkin. I even got a little lazy and left some of the skins on, just pushed them to the side. Thanks so much.
Peter Zeegers
What do you think of adding a knob of ginger and garlic to the roasting pumpkin? Also, what about substituting coconut cream for the dairy cream?
Mel Franks
My most favourite soup of all time!! It also freezes really well and tastes just as delicious when heated back up!! Just make sure you definitely use a food processor (I tried whisking it once, and it wasn't as blended as what it needed to be)