veal and rice meatball soup
with lemon and rainbow chard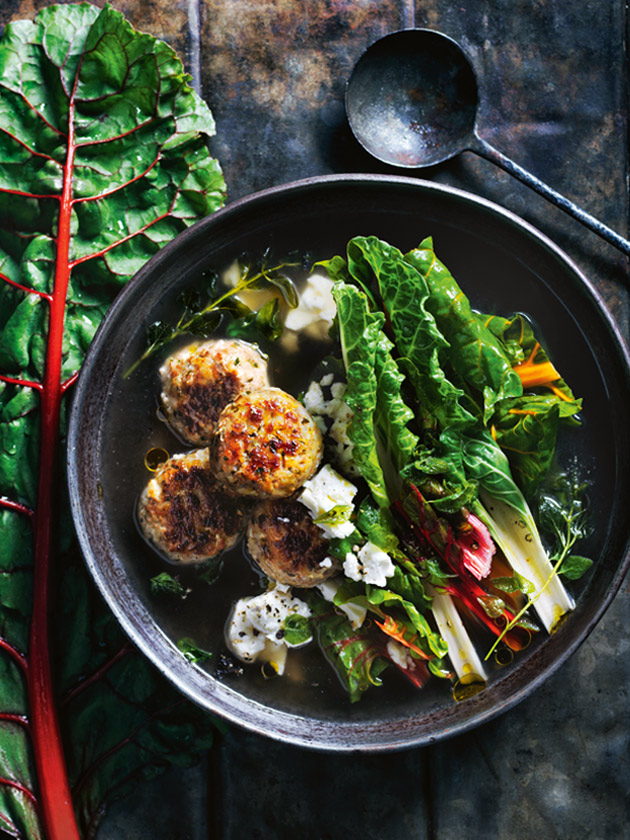 1 teaspoon extra virgin olive oil

¼ cup (50g) long-grain white rice

1 clove garlic, crushed

2 tablespoons finely grated lemon rind

¾ cup (180ml) water

1.5 litres chicken stock

2 bay leaves

4 sprigs flat-leaf parsley

500g veal mince

¼ cup oregano leaves, finely chopped

2 tablespoons finely chopped flat-leaf parsley leaves

1 eggwhite

sea salt and cracked black pepper

1 cup (200g) feta, crumbled

1 tablespoon extra virgin olive oil, extra

6 sprigs oregano, extra

200g rainbow chard leaves, stalks trimmed

Heat the oil in a medium saucepan over high heat. Add the rice, garlic and 1 tablespoon of the lemon rind, and cook for 1 minute. Add the water and bring to the boil. Cover with a tight-fitting lid, reduce heat to low and cook for 12 minutes. Remove from the heat and set aside, covered, for 5 minutes.

Pour the stock into a large saucepan. Add the bay leaves and parsley sprigs, bring to the boil, reduce heat to medium and cook for 15 minutes.

Place the rice mixture, veal, oregano leaves, parsley leaves, eggwhite, salt, pepper and 80g of the feta in a large bowl. Mix well to combine. Roll 2 tablespoons of the mixture into balls and set aside. Heat the extra oil in a large non-stick frying pan over high heat. Add the oregano sprigs and cook for 30 seconds or until crisp. Remove and set aside. Cook the meatballs in 2 batches, turning occasionally, for 3 minutes or until just browned. Add the meatballs to the stock and cook for 5 minutes or until just cooked through.

Divide the rainbow chard between 4 bowls. Top with the soup and meatballs. Sprinkle over the remaining feta and lemon rind, and top with crispy oregano to serve. Serves 4.

There are no comments for this entry yet.