almond satay tempeh skewers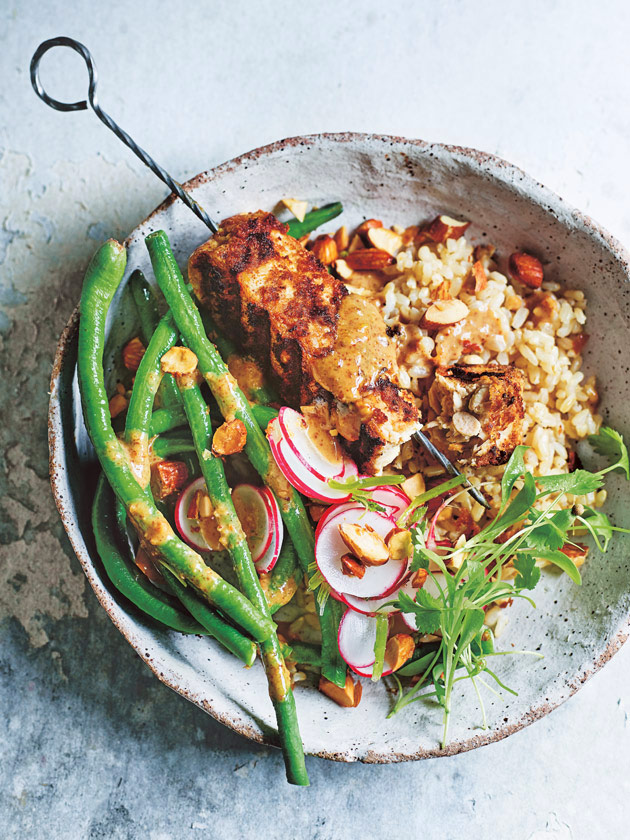 1½ cups (300g) brown rice

2¼ cups (560ml) water

600g tempeh+, cut into 2cm-thick batons

1 tablespoon grapeseed oil

1 bunch (500g) snake beans, blanched

1 bunch (330g) radishes, thinly sliced

½ cup (80g) roasted almonds, chopped

micro (baby) coriander (cilantro), to serve

almond satay
2⁄₃ cup (220g) almond spread++

1 tablespoon tamari

½ cup (125ml) water

Place the rice and water in a medium saucepan over high heat. Bring to the boil, cover with a lid and reduce heat to low. Simmer, covered, for 25 minutes or until tender. Remove the lid and set aside to steam for 5 minutes.
To make the almond satay, place the almond spread, tamari and water in a bowl and stir until smooth and well combined.

Preheat a char-grill pan or barbecue over high heat. Thread the tempeh onto 8 metal skewers and brush with half the almond satay. Brush the grill with oil and cook the skewers, turning, for 6–8 minutes or until golden and charred.
Divide the rice, beans, radish, almond and skewers between bowls. Top with coriander and the remaining almond satay. Serves 4
+ Tempeh is a soy product similar to tofu. It is made from whole, fermented soy beans pressed into blocks, and has a meaty texture and nutty flavour. It's a good source of protein, and is available in the refrigerated section of supermarkets and health food stores.
++ You can find almond spread in the health food aisle of the supermarket.
There are no comments for this entry yet.
Tags:
almond
,
brown rice
,
easy weeknights
,
fresh and light
,
grill
,
grilled
,
quick fix
,
satay
,
skewers
,
snake beans
,
tamari
,