apricot, quinoa and turmeric muesli bars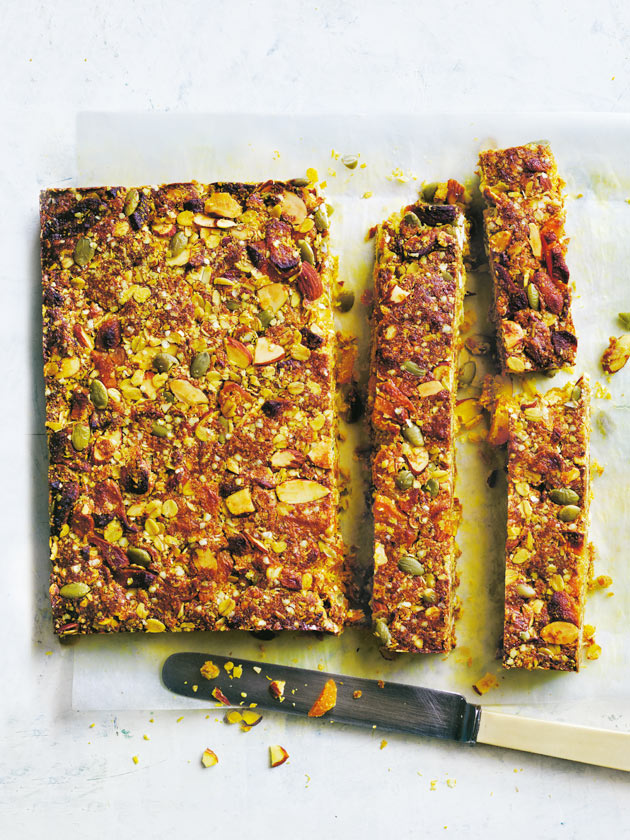 ¼ cup (80g) almond spread
12 fresh dates (240g), pitted
2 teaspoons vanilla extract
⅓ cup (115g) honey
1 cup (100g) quinoa flakes
1 cup (80g) sliced natural almonds
1 cup (90g) rolled oats
1 cup (80g) desiccated coconut
½ cup (80g) pepitas (pumpkin seeds)
2 cups (300g) chopped dried apricots
1 tablespoon ground turmeric
¼ cup (60ml) light flavoured extra virgin olive oil
Preheat oven to 160°C (325°F). Line a lightly greased 20cm x 30cm slice tin with non-stick baking paper. Set aside.
Place the almond spread, dates, vanilla and honey in a small food processor and process until smooth. Place in a large bowl and add the quinoa flakes, almonds, oats, coconut, pepitas, apricots, turmeric and oil. Mix well to combine. Press into the prepared tin and smooth the top. Cook for 40 minutes or until golden. Set aside to cool slightly and refrigerate until cold. Remove from the tin and slice into bars. Makes 20
TIPS + TRICKS
+ You can store these muesli bars in the fridge for up to 2 weeks.
Photography: Chris Court
Sue Payne
Don't let the kids eat them. These are grown up big people bars, so delicious
Sue Payne
These are so so delicious, Forget about feeding the kids, these are adult bars.