beef and black bean stir-fry
with kelp noodles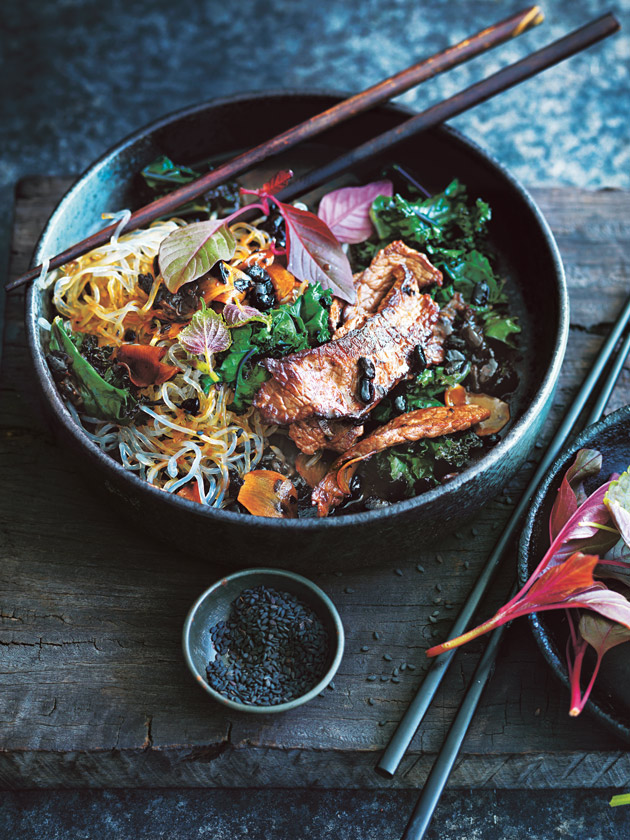 1 tablespoon sesame oil

800g beef rump steak, trimmed and thinly sliced

3 cloves garlic, thinly sliced

200g shredded purple kale

680g kelp noodles+, rinsed under boiling water

en choy (amaranth) leaves++, to serve

shiso leaves and black sesame seeds, to serve

black bean marinade
⅓ cup (80ml) oyster sauce

1 tablespoon honey

¼ cup (40g) fermented black beans

⅓ cup (80ml) water

To make the marinade, place the oyster sauce, honey, black beans and water in a bowl. Mix to combine.

Heat the oil in a large wok or frying pan over high heat. Add the beef and garlic and cook for 1–2 minutes. Add the marinade and kale. Cook, stirring, for 1–2 minutes. Add the noodles and toss to combine.
Divide between bowls and top with the en choy, shiso and sesame seeds to serve. Serves 4
+ Made from seaweed, kelp noodles are low-calorie but high in nutrients. Find them in health food shops. If you can't find them, substitute with rice vermicelli noodles.
++ En choy is an Asian green with a similar taste to spinach. Find the leaves in specialty food stores, Asian grocers and online.
There are no comments for this entry yet.
Tags:
beef
,
black bean
,
easy dinners
,
easy weeknights
,
fresh and light
,
honey
,
kale
,
noodles
,
oyster sauce
,
rump steak
,
sesame oil
,
stir-fry
,