cauliflower and celeriac brown rice risotto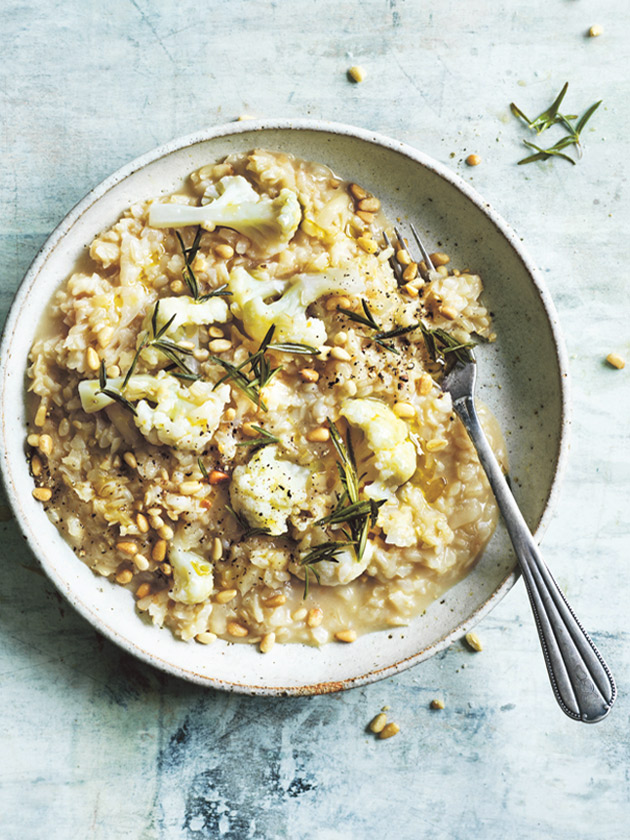 1 cup (200g) short-grain brown rice

1 tablespoon extra virgin olive oil

4 cloves garlic, crushed

1 small celeriac (300g), peeled and grated

sea salt and cracked black pepper

1 litre hot vegetable stock

2 cups (500ml) unsweetened almond milk

400g cauliflower florets

¼ cup (20g) finely grated pecorino

2 tablespoons rosemary leaves

¼ cup (40g) toasted pine nuts, chopped

Place the rice in a saucepan of cold salted water and place over high heat. Bring to the boil and cook for 15 minutes or until al dente. Drain and set aside.

Heat the oil in a medium saucepan over medium heat. Add the garlic, celeriac, salt and pepper and cook, stirring, for 4 minutes. Add the rice and stir to coat. Add the stock and almond milk, 1 cup (250ml) at a time, stirring after each addition until the liquid is absorbed. Once all the liquid is absorbed, cook for 15 minutes. Add the cauliflower and cook, stirring occasionally, for 10 minutes or until the cauliflower is cooked. Add the pecorino and stir to combine.

Top the risotto with rosemary and pine nuts, and sprinkle with pepper to serve. Serves 4–6.

Jenny Hargreaves
This was not as good as most DH recipes. Only about half the stock was needed. Celeriac flavour did not shine through really.