chicken and almond milk curry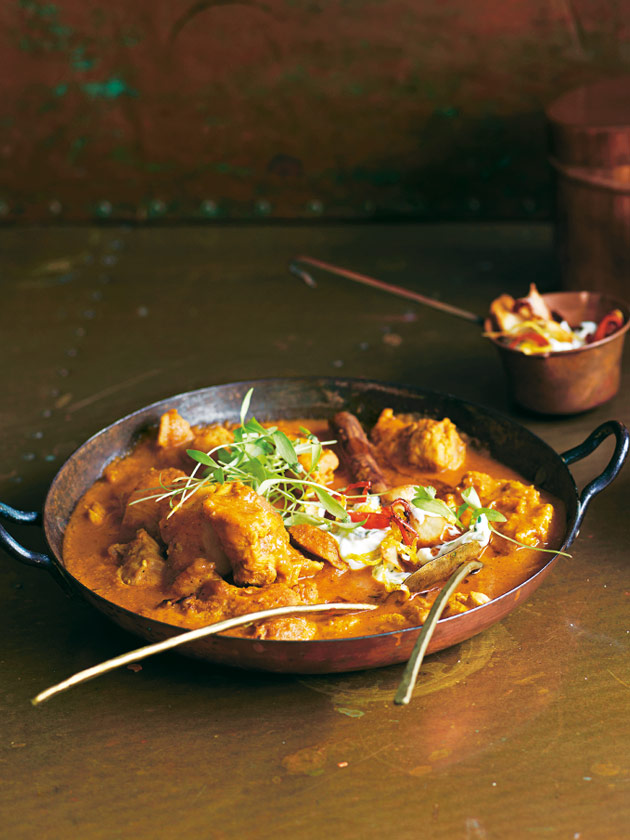 2 teaspoons extra virgin olive oil

800g chicken thigh fillets, trimmed and cut into 4cm pieces

1¼ cups (350g) tomato puree (passata)

2 cups (500ml) unsweetened almond milk

3 sticks cinnamon

1 long red chilli, halved

½ cup (80g) chopped almonds, toasted

cauliflower rice and cucumber raita, to serve (see link to recipes in step 4)

micro (baby) coriander (cilantro), to serve
curry paste
1 onion, chopped

2 cloves garlic

4cm-piece ginger, peeled and sliced

½ teaspoon ground turmeric

1 teaspoon ground cumin

1 teaspoon ground cardamom

1 teaspoon fennel seeds

1 teaspoon garam masala

1 teaspoon sea salt flakes

To make the curry paste, place the onion, garlic, ginger, turmeric, cumin, cardamom, fennel, garam masala and salt in a small food processor and process until smooth.
Heat 1 teaspoon of the oil in a large heavy-based saucepan over high heat, add the chicken and cook, in batches, for 3 minutes each side or until lightly golden. Remove and set aside.

Heat the remaining oil in the pan, add the curry paste and cook, stirring occasionally, for 2–3 minutes or until aromatic. Add the tomato puree, almond milk, cinnamon and chilli. Return the chicken to the pan and stir to combine. Reduce heat to medium and cook, stirring occasionally, for 25–30 minutes or until slightly thickened and the chicken is cooked through.

Top the curry with the almonds. Serve with the cauliflower rice, cucumber raita and coriander. Serves 4.

donna hay team
We're so glad you enjoyed it, Alice! – Team DH
Alice Jäger
I love it. I used coconut milk instead and it still was delicious.