chicken larb with brown rice vermicelli
and quick pickled cucumber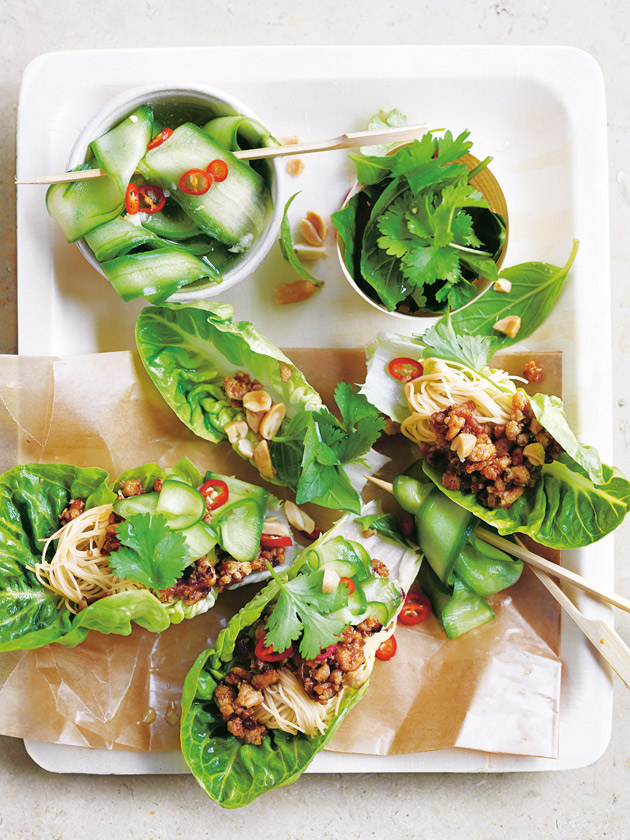 100g brown rice vermicelli noodles+

3 cloves garlic, crushed

2 tablespoons grated ginger

2 tablespoons Asian chilli jam

500g chicken mince

1 tablespoon extra virgin olive oil

¼ cup (60ml) oyster sauce

2 baby cos (romaine) lettuce, leaves separated

Thai basil leaves, to serve

coriander (cilantro) leaves, to serve

unsalted peanuts, chopped, to serve

quick pickled cucumber

2 tablespoons rice wine vinegar

1 clove garlic, crushed

1 tablespoon honey

2 Lebanese cucumbers, thinly sliced

1 long red chilli, thinly sliced

To make the pickled cucumber, place the vinegar, garlic and honey in a large bowl and stir to combine. Add the cucumber and chilli and toss to coat. Set aside.

Place the noodles in a large heatproof bowl, cover with boiling water and set aside for 10 minutes. Drain and set aside.

Place the garlic, ginger, chilli jam and chicken in a bowl and stir to combine.

Heat the oil in a wok or large frying pan over high heat, add the chicken mixture and cook, stirring, for 5–6 minutes.

Add the oyster sauce and cook for a further 2–3 minutes or until the chicken is cooked through.

Divide the noodles between lettuce leaves and top with the chicken and pickled cucumber.

Top with basil, coriander and peanut to serve. Serves 4.
+ Brown rice vermicelli noodles are available from health food stores and Asian supermarkets. You can also use regular rice vermicelli.

Karla Leach
Quick and easy family dinner ! Full of flavour and fresh herbs. Thanks DH another winner !
Loukia Papageorgiou
Delicious! Super quick and easy for a mid week meal. A little spicy for me, although my tolerance levels aren't great. We chose not to use the lettuce leaves and just had more noodles and mince in a bowl. The pickled cucumbers are the perfect side to accompany this and added some refreshment for the spice. You should def. add this one to your mid-week meals.