mushroom and quinoa burger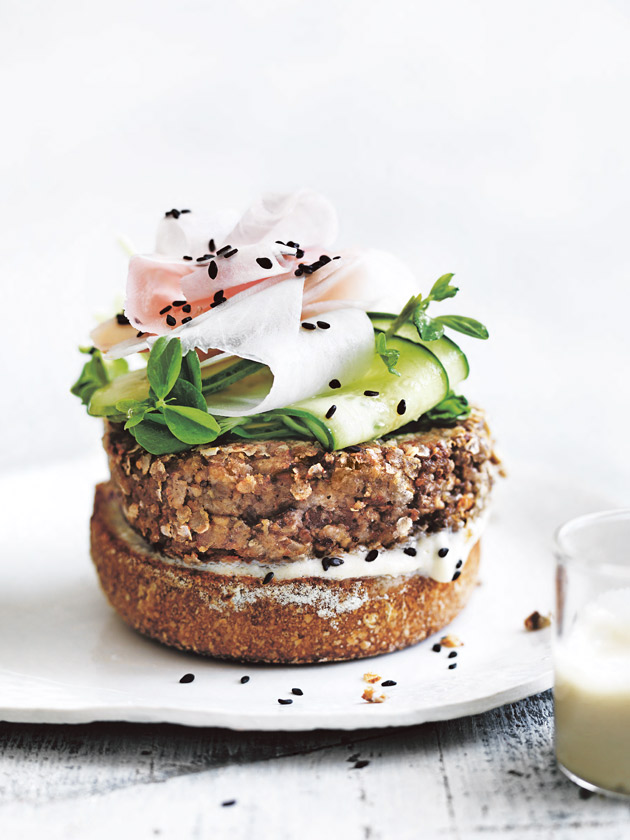 150g button mushrooms

150g firm tofu, drained

227g can water chestnuts, drained

1 tablespoon tahini

1 egg

2 cloves garlic, crushed

sea salt and cracked black pepper

1½ cups (130g) quinoa flakes

2 tablespoons extra virgin olive oil

4 wholemeal rolls, halved

snow pea sprouts, sliced cucumber, thinly sliced daikon radish, pickled ginger and black sesame seeds, to serve

wasabi tofu mayonnaise
300g silken tofu

2 teaspoons mirin

2 teaspoons rice wine vinegar

½ teaspoon wasabi paste

1 teaspoon sea salt flakes

Place the mushrooms in a food processor and pulse until coarsely chopped. Place in a large bowl. Place the tofu and water chestnuts in the food processor and pulse until finely chopped.
Add the tofu mixture, tahini, egg, garlic, salt, pepper and ½ cup of the quinoa flakes to the mushroom, and mix to combine. Shape into 4 patties.
Place the remaining quinoa flakes on a plate and gently press each patty in the flakes to coat. Heat the oil in a large frying pan over medium heat. Cook the patties for 3 minutes each side or until golden.
To make the wasabi tofu mayonnaise, place silken tofu, mirin, rice wine vinegar, wasabi paste and sea salt flakes in a small food processor and process until smooth. Set aside.
To serve, spread 2 tablespoons of the tofu mayonnaise on the base of each roll, top with a patty, sprouts, cucumber, daikon, ginger and sesame. Top with the remaining roll halves to serve. Serves 4.
There are no comments for this entry yet.