white beans with crispy quinoa and prosciutto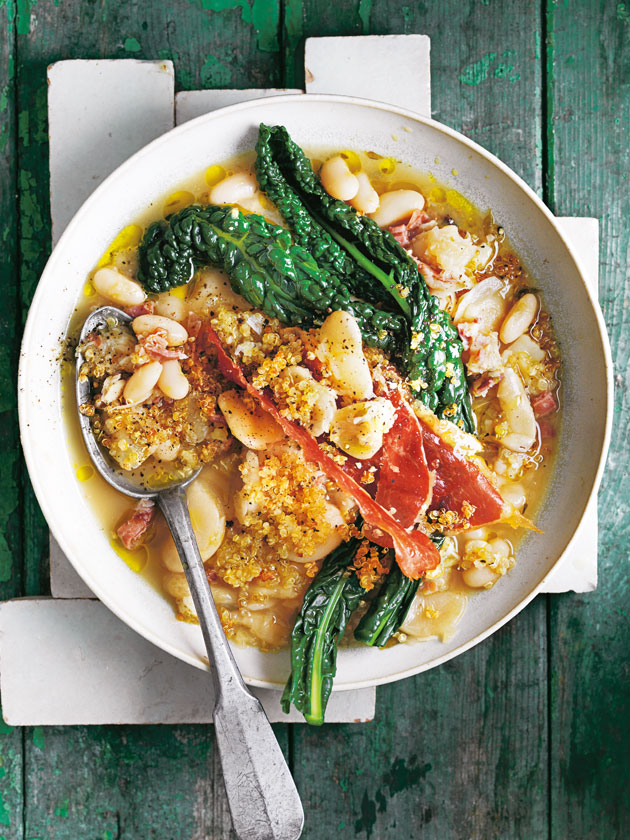 1 cup (200g) cannellini (white) beans, soaked overnight+
1 cup (190g) lima beans, soaked overnight+
1 tablespoon extra virgin olive oil
1 onion, finely chopped
1 bulb fennel (450g), trimmed and finely chopped
100g prosciutto, finely chopped, plus 50g extra, torn
½ bunch thyme sprigs
1 bulb garlic, halved
1 litre chicken stock
sea salt and cracked black pepper
100g baby cavolo nero (Tuscan kale), trimmed
2½ cups cooked white quinoa++
Drain and rinse the beans. Heat half the oil in a large heavy-based

saucepan over high heat. Add the onion, fennel and chopped prosciutto and cook, stirring, for 3–4 minutes or until tender. Add the thyme, garlic, stock, beans, salt and pepper. Cover with

a lid and reduce heat to low. Cook for 25–30 minutes or until beans

are tender. Add the cavolo nero and stir through until just wilted.

While the beans are cooking, preheat oven to 200°C (400°F). Place the quinoa, remaining oil, salt and pepper on a large oven

tray. Toss to combine and cook, stirring halfway, for 15 minutes.

Top the quinoa with the torn prosciutto and cook for 5–10 minutes

or until the quinoa and prosciutto are crisp. Top the bean mixture

with the crispy quinoa, prosciutto and pepper to serve.

Serves 6
+ If you don't have time to soak beans overnight, place the cannellini beans and lima beans in a large saucepan. Cover with water and place over high heat until the water comes to the boil. Remove from the heat, cover with a lid, and set aside for 1 hour
to soak. Drain and rinse under cold water.
++ ¾ cup (135g) uncooked quinoa makes 2½ cups cooked quinoa.
Photography: William Meppem
There are no comments for this entry yet.