zucchini, ricotta, pistachio and chia cake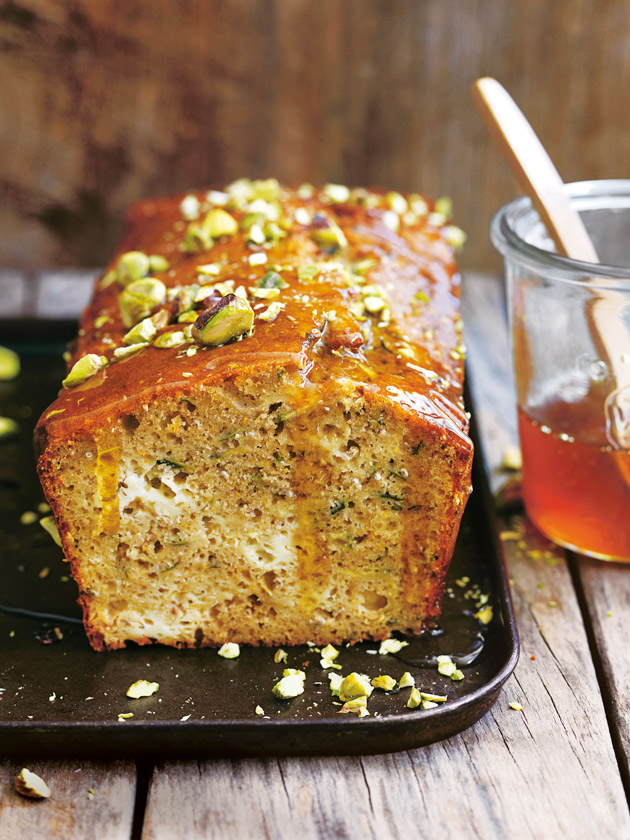 4 eggs

½ cup (90g) rapadura sugar or brown sugar

3 small zucchini (courgette) (300g)

1 cup (150g) buckwheat flour

1 cup (120g) almond meal (ground almonds)

250g ricotta

¼ cup (60ml) grapeseed oil

1 tablespoon finely grated orange rind

2 tablespoons white chia seeds

1 tablespoons vanilla extract

1 teaspoon baking powder

⅓ cup (45g) pistachios, roughly chopped

¼ cup (90g) honey

Preheat oven to 160°C (325°F). Place the eggs and sugar in the bowl of an electric mixer and whisk for 8 minutes or until light, fluffy and tripled in size.

Grate the zucchini (you should have 1⅔ cups). Place the zucchini, flour, almond meal, ricotta, oil, orange rind,
chia, vanilla and baking powder in a large bowl and stir to combine. Gently fold in the egg mixture in 2 batches.
Pour into a lightly greased 26cm x 8cm loaf tin lined with non-stick baking paper. Cook for 60–65 minutes or
until cooked when tested with a skewer. Set aside to cool in the tin.

Top with the pistachios and drizzle with honey to
serve. Serves 6–8.

There are no comments for this entry yet.
RELATED VIDEO