chocolate hazelnut semifreddo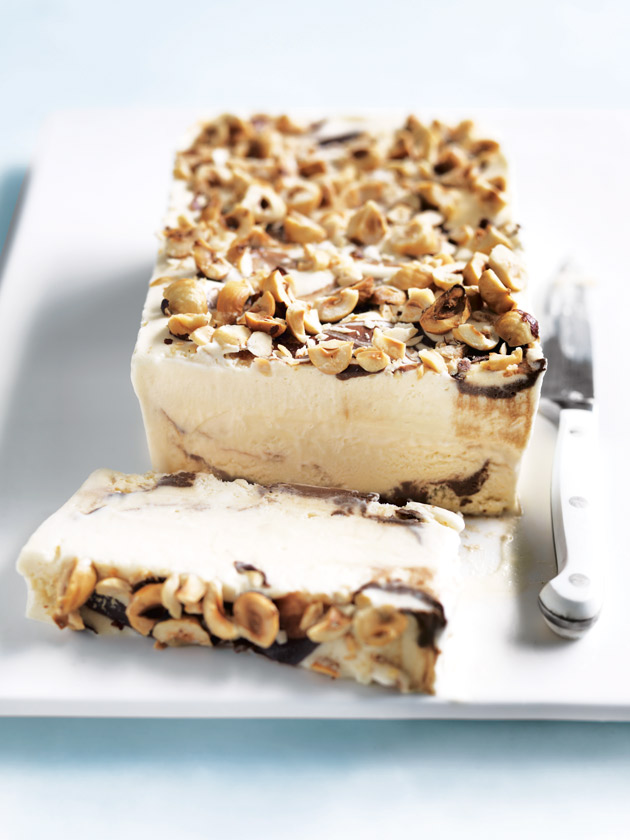 2 eggs

1 egg yolk, extra

2 teaspoons vanilla extract

½ cup (110g) icing sugar, sifted

1⅓ cups (330ml) single (pouring) cream

½ cup (70g) roasted hazelnuts, chopped

chocolate ganache
½ cup (125ml) single (pouring) cream

1 teaspoon vanilla extract

50g dark chocolate, finely chopped

Line a 21cm x 9cm lightly greased loaf tin with non-stick baking paper. Set aside. To make the chocolate ganache, place the cream and vanilla in a small saucepan over medium heat and bring to the boil. Remove from the heat, add the chocolate and set aside for 2 minutes. Stir until smooth and set aside to cool.

Place the eggs, extra yolk, vanilla and sugar in a heatproof bowl over a saucepan of simmering water and, using a hand-held electric mixer, beat for 6–8 minutes or until thick and pale. Remove from heat and beat for a further 6–8 minutes or until cool. Whisk the cream until soft peaks form. Gently fold the cream through the egg mixture until well combined.

Pour half the egg mixture into the prepared tin. Spoon over half the ganache and use a palette knife to create swirls. Repeat with the remaining cream mixture and ganache.

Sprinkle over the hazelnuts and freeze for 4–6 hours or until firm. Slice the semifreddo to serve. Serves 6–8.

There are no comments for this entry yet.