marble surprise cake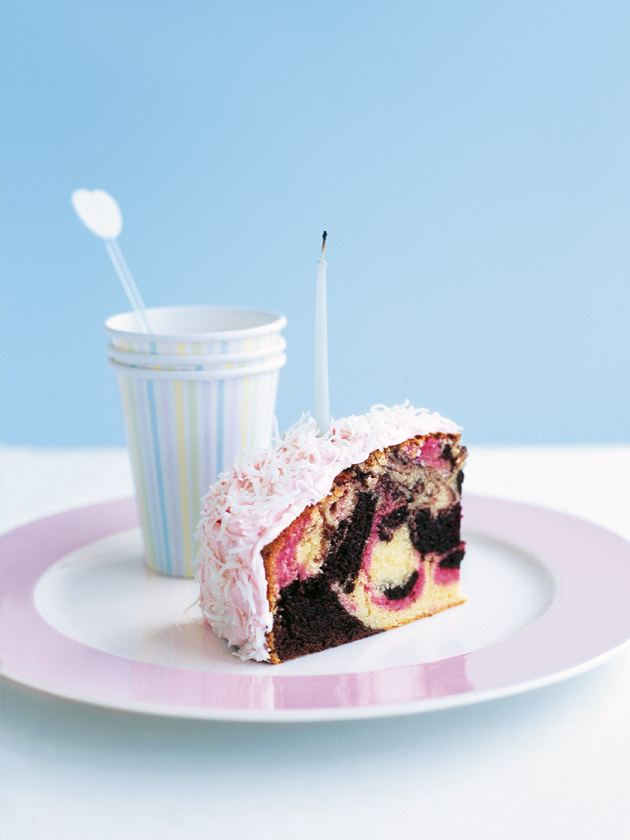 2½ cups plain (all-purpose) flour

1½ teaspoons baking powder

1¾ cups caster (superfine) sugar

250g (8¾ oz) unsalted butter, melted

4 eggs

1¼ cups (10 fl oz) milk

1 teaspoon vanilla extract

¼ teaspoon pink food colouring

¼ cup cocoa powder, sifted

2 tablespoons milk, extra

2 cups shredded coconut
pink icing
375g (13¼ oz) unsalted butter, softened

1½ cups icing (confectioner's) sugar, sifted

1 teaspoon vanilla extract

¼ teaspoon pink food colouring

Preheat the oven to 160°C (320°F). Place the flour, baking powder, sugar, butter, eggs, milk and vanilla in a large bowl and mix well to combine. Divide the mixture into three portions.
Stir the pink food colouring through the first portion, the cocoa and extra milk through the second and leave the third portion plain. Drop alternate spoonfuls of pink, chocolate and plain cake mixture into a lightly greased 22cm (8½ in) round cake tin lined with baking paper. Gently swirl the mixture with a butter knife to create a marble effect and bake for 1¼ hours or until cooked when tested with a skewer. Cool in the tin for 5 minutes then turn out onto a wire rack.

To make the pink icing, place the butter, icing sugar, vanilla and pink colouring in the bowl of an electric mixer and beat for 10–15 minutes or until light and creamy. Secure the cake on a plate with a dollop of icing. Spread the remaining icing over the cake with a palette knife and coat with the coconut. Serves 10–12.

There are no comments for this entry yet.