rice crackle cake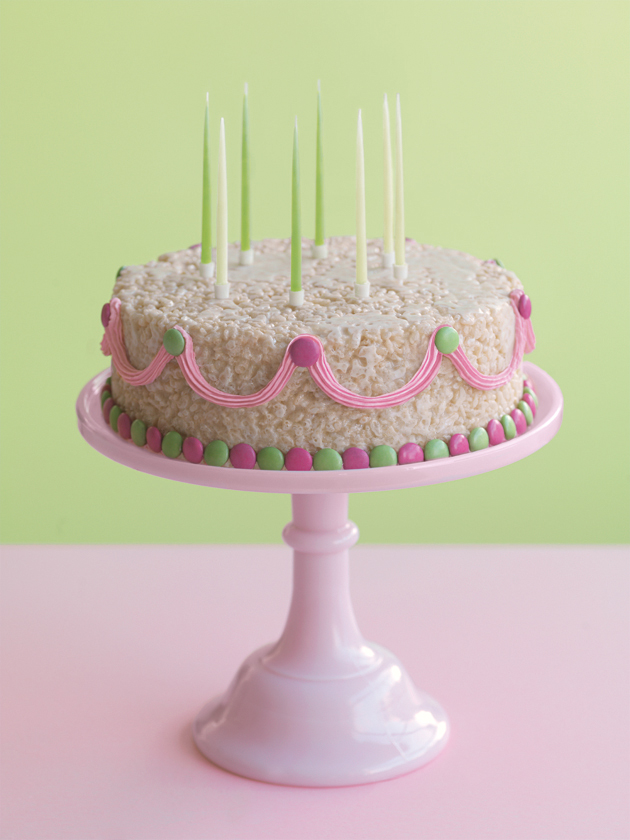 8 cups large white marshamallows

150g butter, chopped

12 cups (420g) rice bubbles

pink food colouring

green and pink candy coated chocolates

candles, to decorate

whipped vanilla icing
125g butter, softened

1 cup (160g) icing (confectioner's) sugar, sifted

1 tablespoon milk

½ teaspoon vanilla extract

Place the marshmallows and butter in a saucepan over low heat. Stir until melted and smooth. Place the rice bubbles in a bowl, add the marshmallow mixture and mix until well combined. Using slightly damp hands, press the mixture into a greased and lined 20cm-round cake tin. Refrigerate for 1 hour, or until firm.

To make the whipped vanilla icing, place the butter in the bowl of an electric mixer and beat for 6–8 minutes or until pale and creamy. Add the icing sugar, milk and vanilla and beat for a further 6 minutes or until light and creamy. Add a few drops of pink food colouring to the icing and mix well to combine.

Turn out onto a cake stand. Use a small fluted nozzle to pipe the pink icing around the edge of the cake and decorate with candy coated chocolates and candles.

There are no comments for this entry yet.