classic chocolate cake
with chocolate buttercream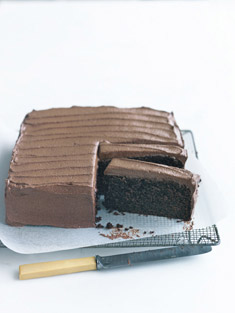 170g butter, softened

1½ cup (265g) brown sugar

2 eggs

1½ teaspoon bicarbonate of (baking) soda

1½ cup (375ml) milk

2¼ cups (335g) plain (all-purpose) flour, sifted

3 teaspoons baking powder, sifted

½ cup (50g) cocoa, sifted

chocolate butter cream
250g butter, softened

2 cups (320g) icing sugar mixture, sifted

½ cup (50g) cocoa, sifted

¼ cup (60ml) milk

Preheat oven to 160ºC (320ºF). Beat the butter and sugar with an electric mixer until pale and creamy. Gradually add the eggs and beat well. Dissolve the bicarbonate of soda in the milk and add to the butter mixture with the flour, baking powder and cocoa. Beat until combined.
Spoon into a lightly greased 22cm-square cake tin lined with baking paper. Bake for 1 hour or until cooked when tested with a skewer. Cool on a wire rack.
For the buttercream, beat the butter until pale and creamy. Add the icing sugar, cocoa and milk and beat until fluffy. Spread over the cake. Serves 8.

Kim Murray
Have now tried this recipe 4 times over last 6 weeks and its, by far, the best chocolate cake! Tried a few others but they didnt cut it….
Rheena Krishnan
Delicious! Kids loved it.
Annette Weeks
I made this cake today omg! Amazingly yummy. I have coeliac disease so I used gluten free flour. Turned out beautifully.This is the most moist cake I have ever made!
Jane Williams
I made this cake recipe today, but made 20 cupcakes instead of a slab cake. They worked out beautifully.
Only cooked them for around 20 mins in a fan forced oven
donna hay team
Hi Sue, our classic chocolate cake is freezable without the chocolate butter cream icing. The DH Team.
Sue Douglas
Is this cake suitable to freeze?
donna hay team
Hi Francis, our classic chocolate cake with chocolate buttercream is the most similar to a box chocolate cake. The DH Team.
Francis Westfield
Hi , there are a lot of chocolate cake recipes on this website, but i'm not sure which to use. I prefer ones that are similar to box chocolate cakes. eg. moist, fluffy
donna hay team
Hi, Nicole. Thanks for your question. As we have not tested it in a round tin, the cooking time will differ slightly. To make sure your tin is the right size, fill the specified tin with water and check the milliliter capacity. Then, you can fill your desired tin to see if they are the same. The DH Team.
Nicole Lloyd
would this recipe work if i were to make it a circle shaped cake? eg- cooking time!
Megan Williams
Easy and delicious cake. Recipe makes a bit more than a standard sized cake so use a deep tin. Definitely would recommend this cake!