chilli and lime pork skewers
with buttered ginger rice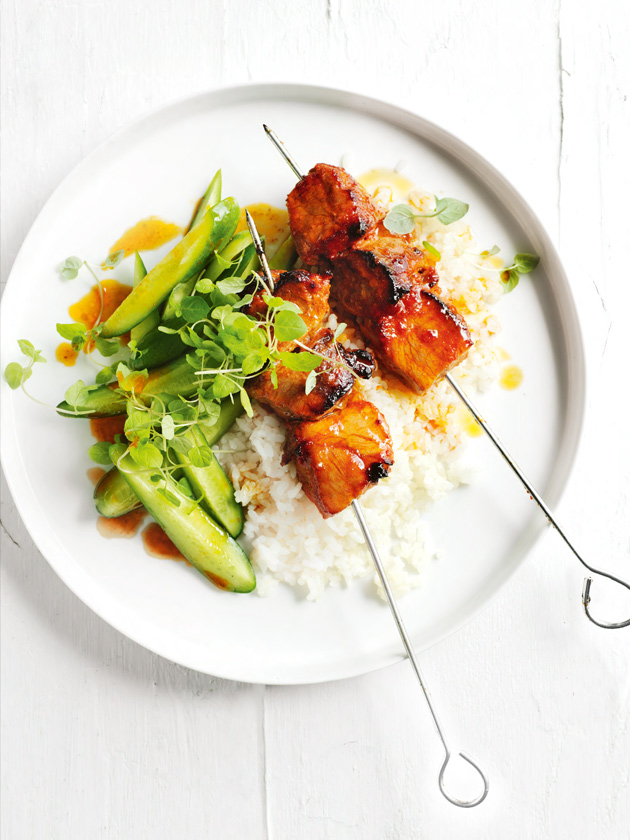 ¼ cup (60g) store-bought chilli sauce

1 teaspoon finely grated lime rind

2 teaspoons lime juice

800g pork neck, trimmed and cut into 2cm pieces

100g unsalted butter, chopped and softened

1 tablespoon grated ginger

2 cloves garlic, crushed

sea salt and cracked black pepper

2 cups (400g) sushi rice

3 cups (750ml) boiling water

6 baby cucumbers (qukes), cut into wedges

micro (baby) mint leaves, to serve

Place the chilli sauce, lime rind and lime juice in a large bowl and mix to combine. Place 2 tablespoons of the chilli mixture in a small bowl and set aside. Add the pork to the large bowl and toss to combine. Add 80g of the butter to the reserved chilli mixture and mix to combine. Set aside.

Melt the remaining butter in a medium saucepan over high heat. Add the ginger, garlic, salt and pepper and cook, stirring constantly, for 1 minute or until the garlic is browned. Add the rice and boiling water. Bring to the boil, cover with a lid, reduce heat to low and simmer for 15 minutes. Remove from the heat and set aside, covered, for 5 minutes.

While the rice is cooking, preheat the grill (broiler) to high. Thread the pork onto 8 metal skewers. Place on a lightly greased oven tray and cook for 10–12 minutes or until charred and cooked through. Divide the buttered ginger rice between plates and top with the skewers, chilli butter, cucumber and mint to serve. Serves 4.

There are no comments for this entry yet.