roasted carrot and herb-dumpling soup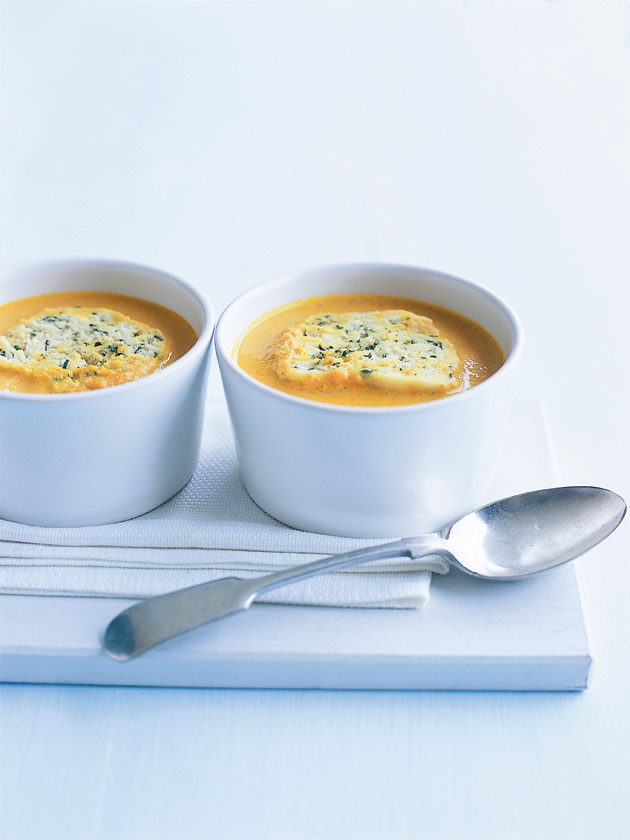 1kg carrots, peeled and roughly chopped
340g brown onions, roughly chopped
2 tablespoons olive oil
sea salt and cracked black pepper
1 teaspoon ground cumin
1.5 litres vegetable stock
1 cup (250ml) pouring (single) cream
herb dumplings
1 cup (150g) self-raising (self-rising) flour
2 tablespoons chopped flat-leaf parsley leaves
2 tablespoons chopped chives
sea salt and cracked black pepper
¼ cup (60ml) milk
¼ cup (60ml) pouring (single) cream

To make the dumplings, place the flour, parsley, chives, salt and pepper in a bowl and make a well in the centre. Add the milk and cream and stir until just combined. Knead on a lightly floured surface for 2 minutes or until smooth. Roll into 8 balls. Set aside.

Preheat oven to 180°C (355ºF). Combine the carrot, onion, oil, salt, pepper and cumin in a baking dish. Roast for 30 minutes or until the carrot is tender. Process, add the stock and blend until smooth. Place in a saucepan over medium heat, add the cream and bring to the boil. Add the dumplings, cover with a tight-fitting lid and cook for 6−8 minutes or until the dumplings are cooked through. Serves 4.
There are no comments for this entry yet.