braised sauerkraut chicken
with potatoes and sour cream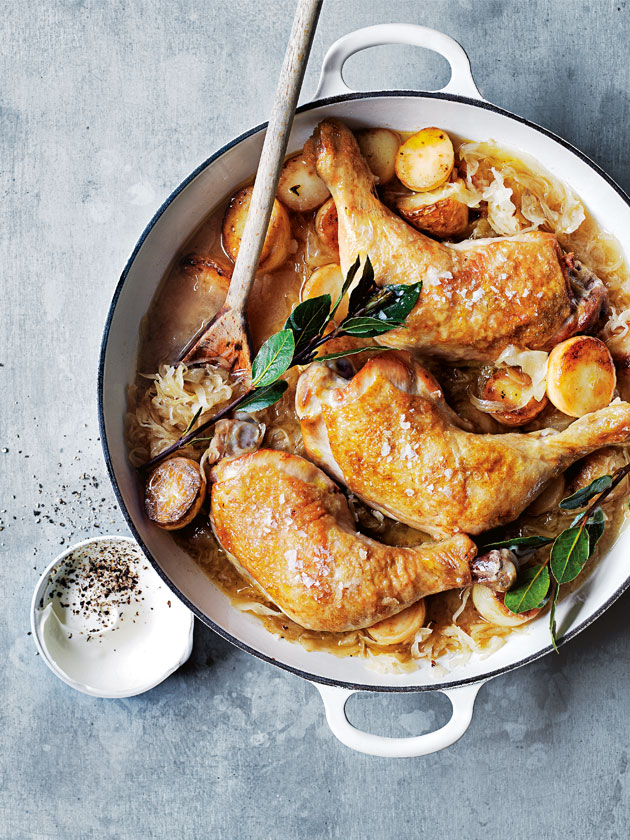 1 tablespoon extra virgin olive oil

4 x 250g chicken marylands, trimmed

sea salt and cracked black pepper

1 brown onion, thinly sliced

300g chat (baby) potatoes, halved

½ teaspoon caraway seeds

2 small sprigs bay leaves

3 cups (540g) store-bought sauerkraut

1 cup (250ml) chicken stock

sour cream, to serve

Preheat oven to 200°C (400°F). Heat the oil in a large heavy-based ovenproof frying pan over medium heat. Sprinkle the chicken with salt and pepper and cook, skin-side down, for 6 minutes or until golden. Turn and cook for a further 4 minutes. Remove the chicken and set aside.
Add the onion, potato, caraway seeds and bay leaves and cook, stirring, for 6 minutes. Add the sauerkraut and stock and stir to combine.
Return the chicken to the pan, cover with a lid and transfer to the oven. Cook for 30 minutes.
Uncover and cook for 20 minutes or until the potato and chicken are golden and cooked through. Sprinkle with salt and pepper and serve with sour cream. Serves 4.

There are no comments for this entry yet.